SCOTTISH CLAN TATTOO DESIGNS & SYMBOLS - BRODIE
Tattoo Symbol Index - A B C D E F G H I J K L M N O P Q R S T U V W X Y Z

Scottish Tattoo Designs >> Brodie
Brodie Clan Tattoos - This most ancient family takes its name from the lands of Brodie near Forres in Morayshire, Scotland. The family lost most of its early charters and other documents when the Gordons burnt the castle in 1645.
Shaw suggest the name itself is derived from the Gaelic word, 'brothaig', meaning ' ditch' or perhaps simply 'muddy'. He suggests that they may have shared a common ancestry with the Moray's and Inneses who were all settled along the Moray Firth in the 12th century, pointing to the similarity of their coats of arms, each of which bears three stars.
Michael Brodie of Brodie received a charter of confirmation of his lands of Brodie from Robert the Bruce. The charter declares that Brodie held the thanage of Brodie by right of succession from his paternal ancestors. It has been suggested that the family may even have Pictish origins, being descended from the royal family who carried the name, 'Brude'.
| | |
| --- | --- |
| | There is much evidence of Pictish settlement around Brodie, and although there is no certain proof of the claim, it must be considered as at least a reasonable explanation. The Brodies were certainly prominent among the local nobility, and the name appears throughout the 15th & 16th century in charters of the diocese of Moray. John 'de Brothie is recorded in a church charter attending on the Earl of mar, lieutenant of the North, in 1376. Thomas de Brothie, and his sons John & Alexander, are mentioned in connection with the Vicarage of Dyke, a living eventually bestowed on Alexander. |
Alexander Brodie of Brodie appears to have been a judge as he was summoned before the Lords of Council in Edinburgh in January 1484 to give account of one of his verdicts.
Clan Brodie Motto: Unite
See also: Claddagh, Thistle Tattoos, Scottish Lion Tattoo Designs, Welsh Dragon Tattoos, Scottish Tattoo Designs, Celtic Tattoo Designs, Family Crests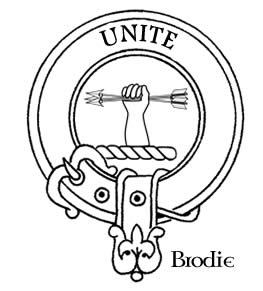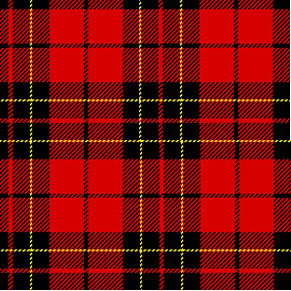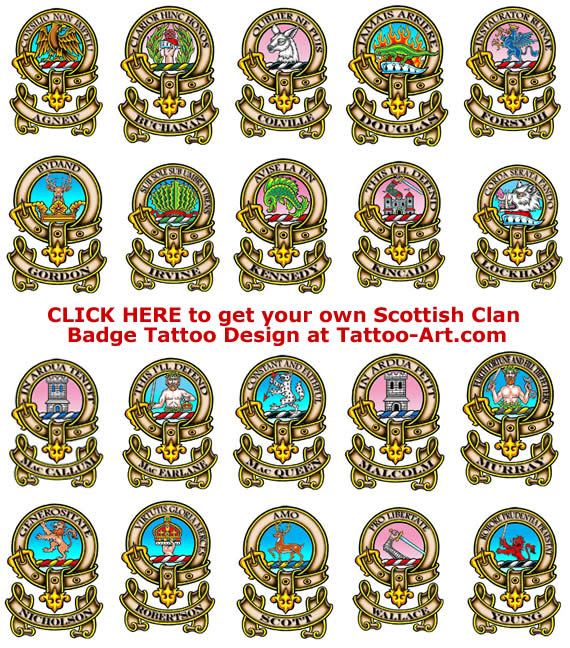 Scottish Tattoo Designs >> Brodie

Tattoo Symbol Index - A B C D E F G H I J K L M N O P Q R S T U V W X Y Z