SCOTTISH CLAN TATTOO DESIGNS & SYMBOLS - Boyd
Tattoo Symbol Index - A B C D E F G H I J K L M N O P Q R S T U V W X Y Z

Scottish Tattoo Designs >> Boyd
Boyd Clan Tattoos This is said to be a descriptive name, deriving from the Gaelic, 'buidhe', meaning 'fair' or 'yellow'. The original fair-haired man is said to have been Robert, nephew of Walter, the first High Steward of Scotland. This is challenged by Anderson, who points out that, as the High Stewards and his entourage were of Norman origin, they would be unlikely to use a Celtic nickname for one of their close family. He believes the name to be of Norman or Saxon origin. Black asserts that the first Boyds were vassals of the Norman family of de Morvilles for their lands around Largs and Irvine. In Gaelic,' boid' can mean 'from Bute'.
Robertus de Boyd witnessed a contract between the Lord of Eglington and the burgh of Irvine around 1205. Robert de Boyte is listed in the Ragman Roll of 1296, rendering homage to Edward I of England. Duncan Boyd was executed by the English in 1306 for supporting the cause of Scottish Independence. Sir Robert Boyd was a staunch supporter of Bruce and was one of the commanders at the Battle of Bannockburn in 1314. His gallantry on the field of battle was rewarded by lands which were confiscated from the Balliols, including Kilmarnock, Bondington and other substantial holdings in Ayrshire.
The fortunes of the family continued to advance and they were raised to the peerage under the title, 'Lord Boyd of Kilmarnock' by James II. Lord Boyd was a trusted royal officer, and on the death of James II he was appointed one of the regents to the young James III, while his brother was appointed military tutor to the young king.

The influence of the Boyd brothers on their young charge was considerable. Lord Boyd was appointed Great Chamberlain, and his son, Thomas, was married to Princess Mary, the king's sister, with the title of 'Earl of Arran'.
Clan Boyd Motto: Confido ~ From Latin: I trust
See also: Claddagh, Thistle Tattoos, Scottish Lion Tattoo Designs, Welsh Dragon Tattoos, Scottish Tattoo Designs, Celtic Tattoo Designs, Family Crests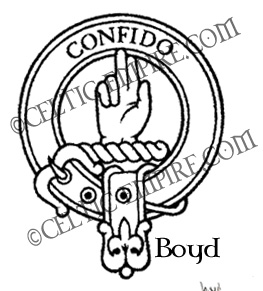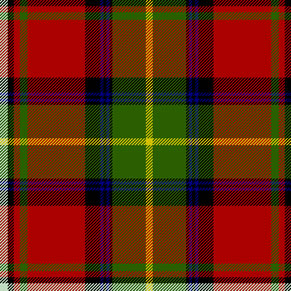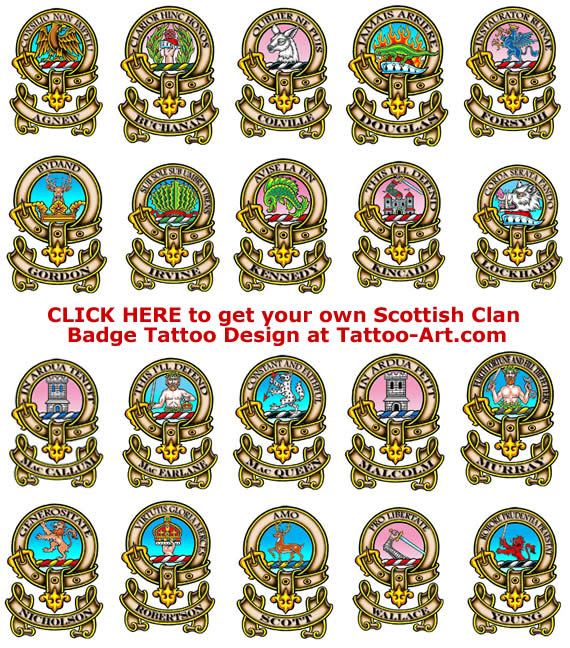 Scottish Tattoo Designs >> Boyd

Tattoo Symbol Index - A B C D E F G H I J K L M N O P Q R S T U V W X Y Z