SCOTTISH CLAN TATTOO DESIGNS & SYMBOLS - BORTHWICK
Tattoo Symbol Index - A B C D E F G H I J K L M N O P Q R S T U V W X Y Z

Scottish Tattoo Designs >> Borthwick
Borthwick Clan Tattoos - This name is of territorial origin, and it seems likely to have been assumed from lands on Borthwick Water in Roxburghshire. The family is one of the most ancient in Scotland and some recent research suggests that they may have come to Britain with Caesar's legions. It is traditionally asserted that the progenitor of this noble house was Andreas, who accompanied the Saxon Edgar the Aetheling and his sister Margaret, later queen and saint, to Scotland in 1067. The family soon became prominent in Scottish affairs.
Sir William Borthwick possessed substantial lands in Midlothian and the Borders, and he obtained a charter confirming his lands of Borthwick around 1410; these were the lands after which the family was named. During the 15th century the Borthwicks acquired immense influence and became Lords of Parliament.
| | |
| --- | --- |
| | The first Lord Borthwick was one of the nobles who went to England as substitute hostages for James I in 1425. He erected what remains one of the most impressive fortified dwellings in Scotland on a strong position near Middleton in Midlothian: the tower is 110 feet high, with walls 14 feet thick, while the great hall is 50 feet long under a 37 feet-high vault. The castle has remained in the ownership of the Borthwick family to the present day. |
The first Lord Borthwick died some time before 1458 and commemorated by a splendid tomb in the old church of Borthwick. The Borthwicks fought alongside James IV at the ill-fated Battle of Flodden in September 1513, and met the same end as most of the flower of Scottish chivalry.
Clan Borthwick Motto: Qui conducit ~ From Latin: He who leads
See also: Claddagh, Thistle Tattoos, Scottish Lion Tattoo Designs, Welsh Dragon Tattoos, Scottish Tattoo Designs, Celtic Tattoo Designs, Family Crests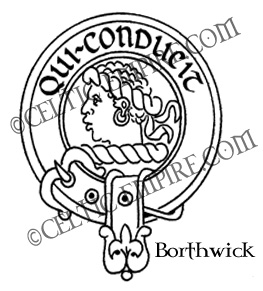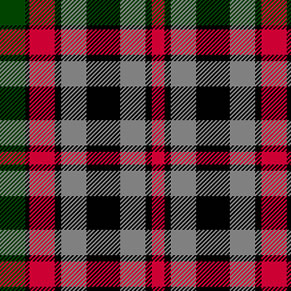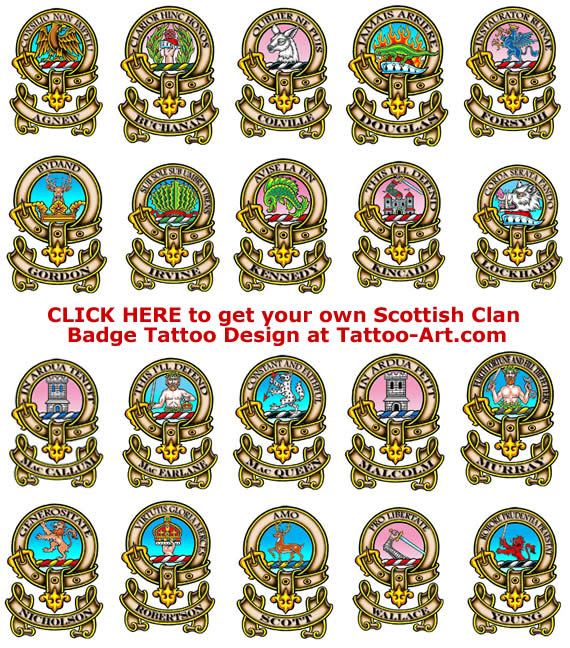 Scottish Tattoo Designs >> Borthwick

Tattoo Symbol Index - A B C D E F G H I J K L M N O P Q R S T U V W X Y Z