SCOTTISH CLAN TATTOO DESIGNS & SYMBOLS - BARCLAY
Tattoo Symbol Index - A B C D E F G H I J K L M N O P Q R S T U V W X Y Z

Scottish Tattoo Designs >> Barclay
Barclay Clan Tattoos - The name of The Barclays were a family which came over from France with the Norman Conquest. The first spelling of their name was 'de Berchelai', believed to be the Anglo-Saxon version of 'beau', meaning 'beautiful', and 'lee' a 'meadow' or field. The early settlers in Gloucester- shire bore the Norman forenames of Roger or Ralph. The Doomsday Book lists them as owning twenty hamlets between the Rivers Wye and Usk. The Earls of Berkeley built Berkeley Castle as a fortress in 1153. Edward II was imprisoned and murdered there by his queen 1327. The castle was so stout that its walls were only breached in the 17th century, during the civil war between Charles I and Parliament..
Some of the family went north to Scotland where they settled in the north-east at Towie, Mathers, Gartley and Pierston in Aberdeenshire. They also settled at Collairnie in Fife. Lord Roger de Berchelai, who is mentioned in the Domesday, and, by tradition, his son, John, came to Scotlandin the retinue of Margaret, sister of the Saxon Edgar the Aetheling, in 1067.She married Malcolm III, who bestowed various lands on her followers, including the lands of Towie to John de Berchelai.
The Barclays soon established themselves in strong positions in lands, offices and alliances, and notable part in national affairs, including the War of Independence. Sir Walte de Berkeley was Chamberlain of Scotland in 1165, and the duties of his high office would have kept him in close attendance upon his royal master, William the Lion.

Sir David Barclay was one of the chief associated of Robert the Bruce and ewas present at most of the battles, particularly Methven where he was taken prisoner.
Clan Barclay Motto: Aut agere aut mori ~ From Latin: Either action or death
See also: Claddagh, Thistle Tattoos, Scottish Lion Tattoo Designs, Welsh Dragon Tattoos, Scottish Tattoo Designs, Celtic Tattoo Designs, Family Crests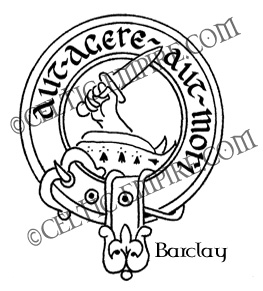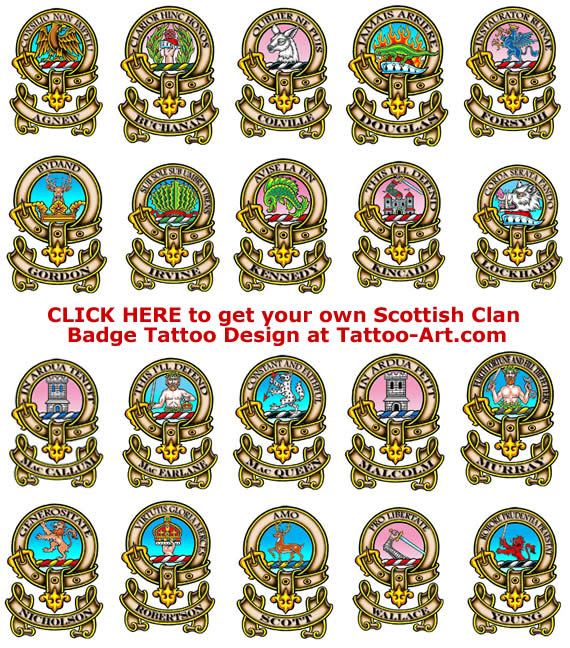 Scottish Tattoo Designs >> Barclay

Tattoo Symbol Index - A B C D E F G H I J K L M N O P Q R S T U V W X Y Z