SCOTTISH CLAN TATTOO DESIGNS & SYMBOLS - BANNERMAN
Tattoo Symbol Index - A B C D E F G H I J K L M N O P Q R S T U V W X Y Z

Scottish Tattoo Designs >> Bannerman
Bannerman Clan Tattoos - The name of Bannerman has its origins in the privilege held by ancestors of the family of carrying the royal standard in the 10th and 11th centuries, and the arms of this family prominently proclaim the ancient and honorable office. It is not known when the right passed from this family, but according to one tradition it occurred in the late 11th or early 12th centuries, during the reign of either Malcolm III or Alexander I.
The king is said to have arrived at the River Spey where a large enemy force had assembled on the opposite bank, believing themselves to be protected by the rising floodwaters. The king was urged by his advisors not to attempt to cross the river until it fell, but he was enraged at the sight of the enemy and, unable to restrain himself, drove his horse into the water. Sir Alexander Carron, the king's chamberlain, perceiving his master's danger, seized the royal standard and braved the raging waters, followed by the rest of the Scottish army. The rebels were put to flight and Carron was rewarded for his audacity by being named hereditary Standard Bearer to the King.
| | |
| --- | --- |
| | His descendents still bear this privilege, and carry ther Scottish royal banner at appropriate ceremonials. In June 1367 David II granted lands to David Bannerman 'dilecto medico nostro' of the lands of Clyntrees, Waterton & Weltown in the parish of Ellen in Aberdeenshire. The Bannermans were required to build a chapel where weekly mass was to be said for the repose of the soul of the king's father, Robert the Bruce. In 1370 the Abbot of Kinloss granted the Bannermans land lying to the west of the city of Aberdeen. |
The Bannermans became embroiled in the politics of north-east Scotland, which inevitably meant taking sides in the great feud between the powerful Gordons and their enemies the Forbeses, during the 16th century.
Clan Bannerman Motto: Pro patria ~ Latin: For my country
See also: Claddagh, Thistle Tattoos, Scottish Lion Tattoo Designs, Welsh Dragon Tattoos, Scottish Tattoo Designs, Celtic Tattoo Designs, Family Crests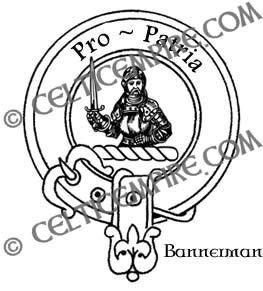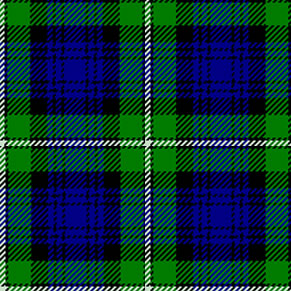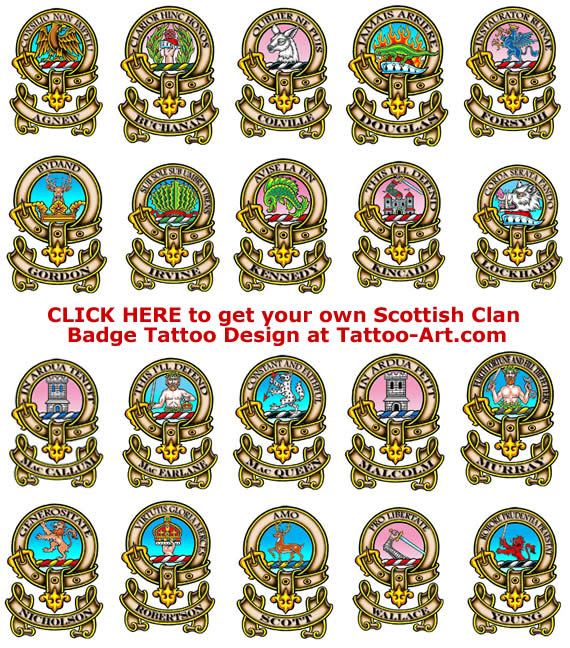 Scottish Tattoo Designs >> Bannerman

Tattoo Symbol Index - A B C D E F G H I J K L M N O P Q R S T U V W X Y Z