SCOTTISH CLAN TATTOO DESIGNS & SYMBOLS - BAILLIE
Tattoo Symbol Index - A B C D E F G H I J K L M N O P Q R S T U V W X Y Z

Scottish Tattoo Designs >> Baillie
Baillie Clan Tattoos - The most likely derivation of this name is from the French 'baillie', meaning 'bailiff' or 'steward'. This was an office of great importance in medieval times. One of the earliest records of the name appears in 1311 when William de Baillie appears as a juror in a case concerning lands in Lothian. Nisbet records that, according to family tradition, the Baillies of Lamington were truly a branch of the great house of Balliol, Lords of Galloway and sometimes kings of Scots. The family was said to have changed its name due to the unpopularity of the Baillol kings after the succession of Robert the Bruce. There is, however, no real evidence to support this tradition, particularly as the name Balliol remained fairly widespread in Scotland after that time. William Baillie of Hoprig was knighted by David II in 1357 and received a royal charter to the barony of Lamington in 1368. The lands remained in the family until the present time.
Sir William established the family fortunes and from him are descended the Baillies of Carpphin Park, Jerviston,Dunrogel, Carnbroe, Castlecarry, Provand and Dochfour.

Alexander Baillie, a younger son of Lamington, fought at the Battle of Brechin in 1452 and was rewarded by the Earl of Huntly with the lands of Dunain and Dochfour near Inverness.
He was also appointed constable of Inverness Castle. The family played an important part in affairs around the Highland capital, and formed alliances by marriage to many local families.
Cuthbert Baillie of Carphin was Lord High Treasurer to James IV in 1512.
William Baillie of Provand was called to the Bench in 1566, taking the title of 'Lord Provand'. He was Lord President of the Court of Sessions from 1565 to his death in 1595.
Clan Baillie Motto: Quid Clarius Astris
From Latin: What is Brighter Than the Stars?
See also: Claddagh, Thistle Tattoos, Scottish Lion Tattoo Designs, Welsh Dragon Tattoos, Scottish Tattoo Designs, Celtic Tattoo Designs, Family Crests, Boar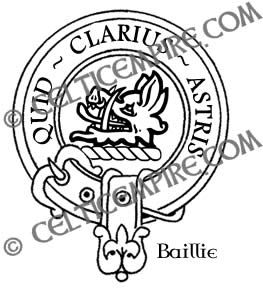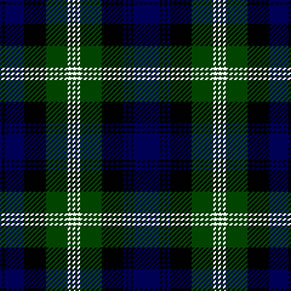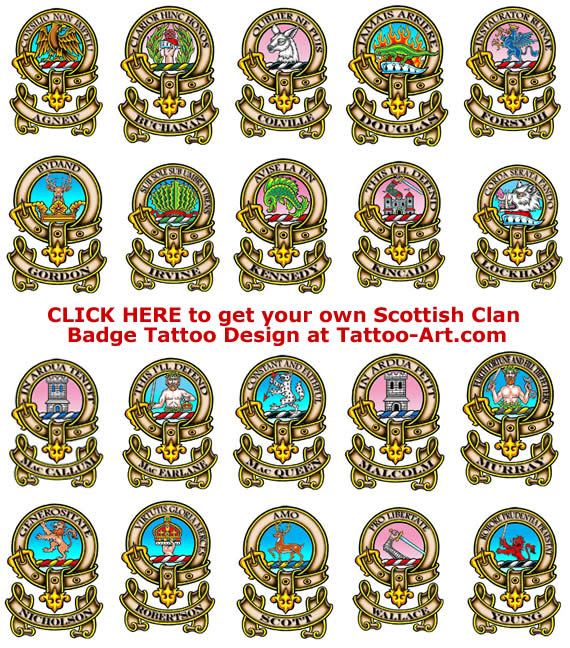 Scottish Tattoo Designs >> Baillie

Tattoo Symbol Index - A B C D E F G H I J K L M N O P Q R S T U V W X Y Z