SCOTTISH CLAN TATTOO DESIGNS & SYMBOLS - ARMSTRONG
Tattoo Symbol Index - A B C D E F G H I J K L M N O P Q R S T U V W X Y Z

Scottish Tattoo Designs >> Armstrong
Armstrong Clan Tattoos - The legends and traditions of this Borders powerful family hold that the first of the name was Siward Beorn (sword warrior), also known as Siward Digry ('sword strong arm'), who was the last Anglo-Danish Earl of Northumber-land and a nephew of King Canute, the Danish king of England who reigned until 1035. It is said he tried to command the sea to retreat.
The family is said to have been related by marriage both to Duncan, King of Scots and William the Conqueror, Duke of Normandy and King of England.

The name was common over the whole of Northumbria and the Borders, and the Armstrong's became a powerful and warlike border clan in Liddisdale and the debateable border land.
Black lists Adam Armstrong as being pardoned at Carlisle in 1235 for causing the death of another man and Gilbert Armstrong, steward of the household of David II, as ambassador to England in 1363.
The Armstrong's continued to expand their influence into the valleys of the Esk and Ewes, and in 1425 John, brother of Armstrong of Mangerton, in Liddisdale, built a strong tower.
Armstrong's were said to be able to raise 3000 horsemen and at one point were in virtual control of the debateable land.
In 1528 the English warden of the marches, Lord Dacre, attacked and raised the Armstrong tower but the Armstrong response was to burn Netherby. The Armstrong's power was seen as a threat by James V to his own authority and, according
Clan Armstrong Motto: Invictus maneo ~ From Latin: I remain unvanquished
See also: Claddagh, Thistle Tattoos, Scottish Lion Tattoo Designs, Welsh Dragon Tattoos, Scottish Tattoo Designs, Celtic Tattoo Designs, Family Crests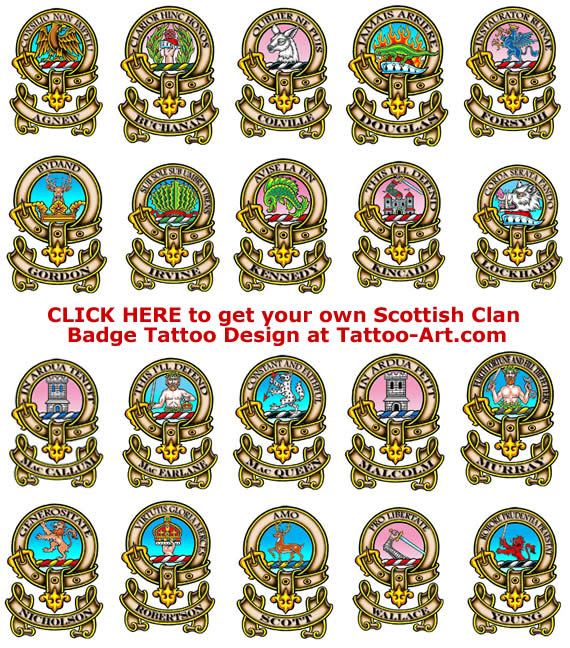 Scottish Tattoo Designs >> Armstrong

Tattoo Symbol Index - A B C D E F G H I J K L M N O P Q R S T U V W X Y Z