SCOTTISH CLAN TATTOO DESIGNS & SYMBOLS - ARBUTHNOTT
Tattoo Symbol Index - A B C D E F G H I J K L M N O P Q R S T U V W X Y Z

Scottish Tattoo Designs >> Arbuthnott
Arbuthnott Clan Tattoos - This is a name of territorial origin, from the ancient lands of the same name in Kincar-dineshire. In early documents it is referred to as 'Aberbothenoth', as this has sometimes been translated as the 'mouth of the stream below the noble house'.
| | |
| --- | --- |
| | This land has been in the hands of the same noble family for more than 24 generations, and has passed to the present Viscount of Arbuthnott. High, who may have been of the noble family of Swinton, is believed to have acquired the lands of Arbuthnott by marriage to the daughter of Osbert Olifard, known as 'The Crusader', some time during the reign of William the Lion. Another Hugh,'Le Blond', named presumably for his fair hair, was Laird of Arbuthnott around 1282. He appears in a charter of that year, bestowing lands upon the Monastery of Arbroath for 'the safety of his soul'. |
Philip de Arbuthnott is the 1st of the name to be described in a charter as 'dominus ejusdem', or 'of that Ilk', was implicated in the murder of John Melville of Glenbervie, sheriff of the Mearns, around 1420.
According to the traditional story, Sheriff Melville had made himself extremely unpopular with the local lairds by too strict an adherence to his jurisdiction.
The Duke of Albany, who was at that time Regent of Scotland during the captivity of James I in England, is said to have become tired of endless complaints against Melville and exclaimed, 'sorrow gin that sheriff were sodden and supped in broo', This was taken by the disgruntled lairds as a signal to kill the sheriff. The Lairds of Mathers, Arbuthnott, Pitarrow and Halkerton invited Melville to a hunting party in the forest of Garvock. The unsuspecting sheriff was lured to a prearranged spot where he was killed by throwing him into a cauldron of boiling water. After he was truly 'sodden', each took a spoonful of the murderous brew. The Laird of Arbuthnott was ultimately pardoned for participating in the affair and died peacefully in 1446.
Clan Arbuthnott Motto: Laus Deo ~ From Latin: Praise God
See also: Claddagh, Thistle Tattoos, Scottish Lion Tattoo Designs, Welsh Dragon Tattoos, Scottish Tattoo Designs, Celtic Tattoo Designs, Family Crests, Peacock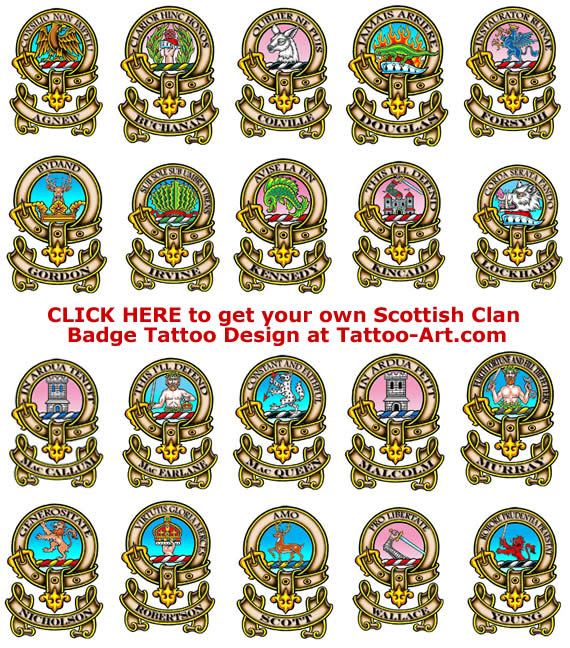 Scottish Tattoo Designs >> Arbuthnott

Tattoo Symbol Index - A B C D E F G H I J K L M N O P Q R S T U V W X Y Z