SCOTTISH CLAN TATTOO DESIGNS & SYMBOLS - ANDERSON
Tattoo Symbol Index - A B C D E F G H I J K L M N O P Q R S T U V W X Y Z

Scottish Tattoo Designs >> Anderson
Anderson Clan Tattoos - This distinguished family have flourished in Wigtownshire and Galloway since the 14th century. The origin of the name is disputed, although it has generally been asserted to be Norman, from the Barony d'Agneaux. They first settled in England, but appear in Liddesdale in Scotland at the end of the 12th century. A separate Celtic origin has been suggested through the native Ulster sept of O'Gnimh, hereditary poets or bards to the great O'Neils of Clan Aodha Bhuidhe in Antrim who acquired the anglicized name of Agnew.
| | |
| --- | --- |
| | The name was first written in English as O'Gnive, which later became O'Gnyw, and latterly, O'Gnew. This would give the Agnews a common descent with other great names such as Macdonald and Macdougall through Somerled, the 12th century King of the Isles. The Agnew eagle crest may echo the similar device which appears on the shield of the descendants of Somerled. |
The fortunes of the family in Scotland were established when Andrew Agnew of Lochnaw was granted the lands and constableship of Lochnaw Castle in 1426. He was appointed hereditary Sheriff of Wigtown in 1451, an office still held by his direct descendents to this day.
The sheriff's son, another Andrew, married a daughter of the chief of the Macdowalls, and it was from his second son,William, that the Lochryan branch of the family descended. Andrew Agnew of Lochnaw was killed at the Battle of Pinkie in 1547.
Sir Patrick was MP for Wigtownshire from 1628 to 1633, and again from 1643 to 1647.
He was created Baronet of Nova Scotia on 28 July 1629. He died in 1661 and was succeded by his eldest son, Andrew, who had been knighted in his fathers lifetime and who was also returned a MP for Wigtownshire. He was created Sheriff of Kircudbright as well as Wigtown in the 1650s, when Scotland was part of the protectorate with England. He married Anne Stewart, daughter of the 1st Earl of Galloway.
Clan Anderson Motto: Stand sure
See also: Claddagh, Thistle Tattoos, Scottish Lion Tattoo Designs, Welsh Dragon Tattoos, Scottish Tattoo Designs, Celtic Tattoo Designs, Family Crests, Acorn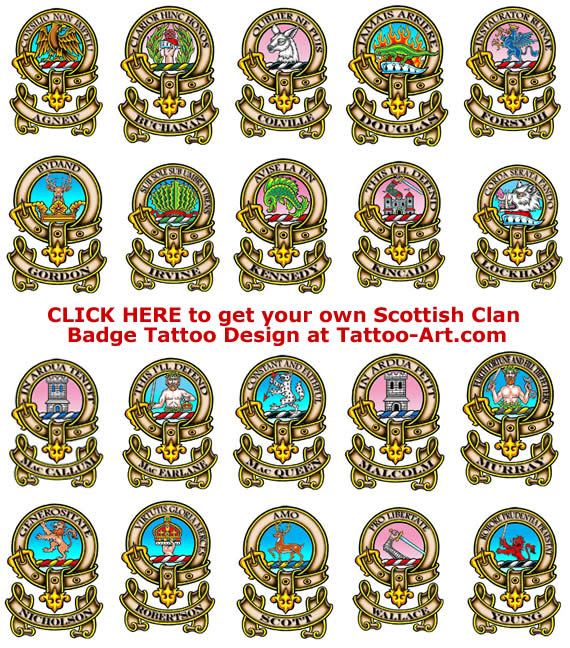 Scottish Tattoo Designs >> Anderson

Tattoo Symbol Index - A B C D E F G H I J K L M N O P Q R S T U V W X Y Z