TATTOO DESIGNS & SYMBOLS - TULIPS
Tattoo Symbol Index - A B C D E F G H I J K L M N O P Q R S T U V W X Y Z
---
Tattoo designs - T >> Tulips
Tulip Tattoos - The tulip originated many years ago in Persia and Turkey, where it played a significant role in the art and culture of the time. Most likely commenting on the Turkish tradition of wearing tulips in one's turban, Europeans mistakenly gave tulips their name, which comes from the Persian word meaning turban.
| | |
| --- | --- |
| | It is unclear who first brought the tulip to northwest Europe. The most widely accepted story is that of Oghier Ghislain de Busbecq, Ambassador of Ferdinand I to Suleyman the Magnificent of the Ottoman Empire in 1554. He remarked in a letter that he saw "an abundance of flowers everywhere; Narcissus, hyacinths and those which in Turkish Lale, much to our astonishment because it was almost midwinter, a season unfriendly to flowers". |
It gained much popularity and was seen as a sign of abundance and indulgence in the Ottoman Empire. The era during which the Ottoman Empire was wealthiest is called the Tulip era or Lale Devri in Turkish. In classic and modern Persian literature, special attention has been given to these beautiful flowers and in recent times tulips have featured in the poems of Simin Behbahani. However, the tulip was a topic for Persian poets as far back as the thirteenth century. Musharrifu'd-din Saadi (poet) in Gulistan described a visionary garden where 'The murmur of a cool stream / bird song, ripe fruit in plenty / bright multicoloured tulips and fragrant roses...' resulted in a paradise on earth.

As Europeans began taking to tulips, the flower's popularity spread quickly, particularly in the Netherlands where a phenomenon dubbed tulip mania set in at one point during the 17th century. Tulips became so highly-prized that prices were sent soaring and markets crashing. Tulips are now grown throughout the world, but people still identify cultivated varieties as "Dutch tulips."

The meaning of tulips is generally perfect love. Like many flowers, different colors of tulips also often carry their own significance. Red tulips are most strongly associated with true love, while purple symbolizes royalty. The meaning of yellow tulips has evolved somewhat, from once representing hopeless love to now being a common expression for cheerful thoughts and sunshine. White tulips are used to claim worthiness or to send a message of forgiveness. Variegated tulips, once among the most popular varieties due to their striking color patterns, represent beautiful eyes.
Get inspired by some really great images and photos in our Tulip Inspiration Gallery
See also: Flower & Plant Tattoo Index
Choose your beautiful Tulip Tattoo design from the many choices at TattooJohnny.com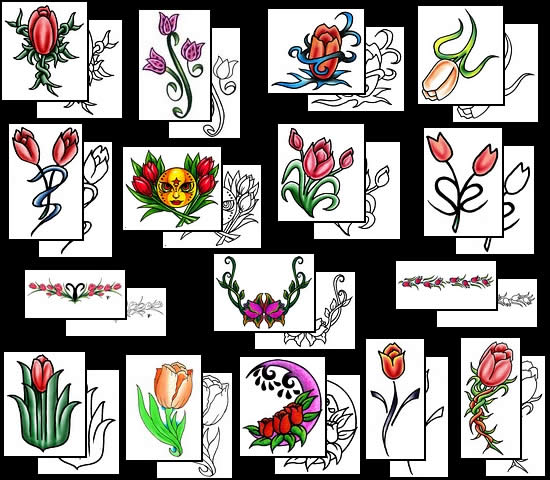 Tattoo designs - T >> Tulips
---
Tattoo Symbol Index - A B C D E F G H I J K L M N O P Q R S T U V W X Y Z