TATTOO DESIGNS & SYMBOLS - PRAYING HANDS TATTOOS
Tattoo Symbol Index - A B C D E F G H I J K L M N O P Q R S T U V W X Y Z
---
Tattoo designs - P >> Praying Hands

Praying Hands or, Hands of the Apostle Tattoos - If the 15th century German artist, Albrecht Dürer, was alive today, he would be a rich man. Copyright to his brush drawing of 'Hands in Prayer' would auction off for millions. It was originally commissioned as an altar-piece by the mayor of Frankfurt in 1508. A later version of these praying hands appeared in another Dürer work, only this time as the hands of an apostle standing at an empty grave looking heavenwards at the coronation of the Virgin Mary. The original was destroyed by fire in 1729, but a copy of the altar-piece, as well as some earlier sketches survived.
| | |
| --- | --- |
| | Today, Dürer's "Praying Hands" is not only the most widely known and frequently produced of his works, but it's one of the most popular tattoo designs of all times. The image continues to move people's hearts and minds, especially when combined with a variety of favorite tattoo icons, such as the cross or the rosary. It is often teamed up with hearts and halos, or the name of a loved one, as a memorial. |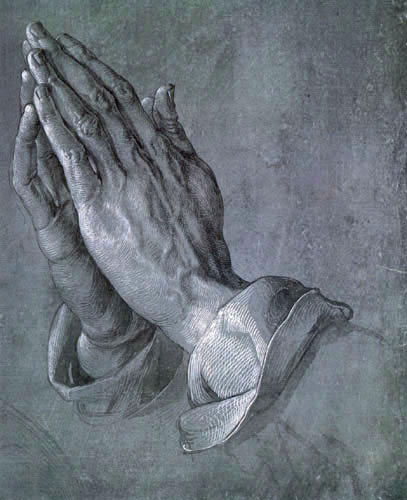 Other 'Hands' appear with prayer text or holy scripts, or with wounds of the crucifixion and the holy fire. Dürer would probably be happy to see his work so universally adopted. He was an artist who believed his talent was a gift from God. His love of nature and attention to detail in even the smallest of his works were his way of glorifying the Creator.

There's a compelling story going around that Dürer depicted the hands of his brother. The sibling sacrificed his own aspirations -- so the story goes -- by supporting his brother's art training by working in the mines. But whoever wrote that fairy tale appears not to have taken a good look at those beautiful hands. They are not at all the damaged, arthritic hands of a miner. Dürer was an accomplished draftsman, applying the fine skills he developed as an apprentice metalworker in his father's goldsmith shop to his work as an artist. After he left his father's house, he worked with eminent craftsmen and artists of his time, learning more techniques and methods, enabling him to work in a variety of mediums. Who knows how Dürer would feel seeing his "Praying Hands" reproduced as gold and silver pendants, bracelets, and watches. And even on airbrushed custom license plates.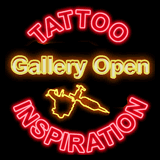 Get inspired by some great images and photos in our Praying Hands Inspiration Gallery
See also, Religious Tattoos, Christian Tattoos, Rosary Tattoos, Cross Tattoos, Jesus Christ Tattoos, Rock of Ages Tattoos, Angel Tattoos, Dove Tattoos, Wings Tattoos, Star Tattoos, Religious Tattoo Index, Latino Tattoo Index
Check out these Praying Hands Tattoo Designs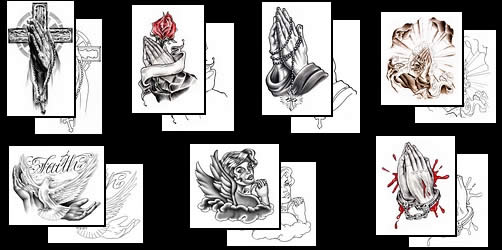 Tattoo designs - P >> Praying Hands
---
Tattoo Symbol Index - A B C D E F G H I J K L M N O P Q R S T U V W X Y Z