TATTOO DESIGNS & SYMBOLS - MADONNA & CHILD TATTOOS
Tattoo Symbol Index - A B C D E F G H I J K L M N O P Q R S T U V W X Y Z
---
Tattoo designs - M >> Madonna and Child
Madonna and Child Tattoo Designs - the Virgin Mary with her baby Jesus -- has long been one of the fundamental symbols of Christianity and a very popular tattoo design for over a hundred and fifty years. Tattoos of Mary and Child were popular with early sailors, as a symbol of the need to remain virtuous. In part religious symbols were thought to make corporal punishment less brutal, the reasoning being that the hand behind the lash was moderated by religious imagery staring out from a sailor's back. The design remained popular in the "Old School" tattoo genre and more recently has been an iconic symbol in Latino and cholo culture, which are heavily influenced by the religious imagery of the Catholic Church. The design is also popular in memorial tattoos, particularly when remembering children.
| | |
| --- | --- |
| | The term 'Madonna' was used in medieval times to describe a woman of noble birth or great importance. The original Madonna and Child refers to an Italian Renaissance wood panel painting of the early 14th century. For centuries afterwards, the Madonna and Child was immortalized by some of the greatest painters, sculptors and artists - Botticelli, da Vinci, Michelangelo, Matisse and Dali to name just a few. |

Their paintings showed the Virgin as a tender, loving mother. She is seen with the Child in her arms or seated on her lap in many different perspectives and settings. The colour blue came to be associated with Mary, representing Truth and Hope. Angels often showed up in paintings of the Madonna, since she was as much a resident of the celestial realm as of earth.

Earlier, in 6th century Byzantine churches, images of the Mother and Child had appeared as icons, representing her as Queen of Heaven. These images were considered idol worship by some, and spawned more than a little controversy. But over time, veneration of the Virgin and Child became more popular and opposition to the image appearing in churches diminished.

Formalized images of an enthroned Virgin and Child eventually gave way to more personal expressions of motherhood designed for the private chapels and chambers. Images of the Virgin suckling the Child were usually confined to the privacy of homes where devotions to the Virgin were practiced away from the public churches and cathedrals. In 1480, the Italian artist, Carlo Crivelli, portrayed the Madonna and Child in amazing contemporary detail, while surrounding her with insects, birds, vegetables and flowers as symbols of sin, purity, redemption and love. The housefly symbolized sin, while the cucumber and finch represented redemption. Birds, particularly the gold finch, were symbols of rebirth.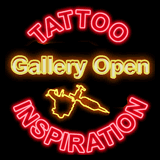 In 2006, the USA issued a Christmas stamp featuring the Madonna and Child with bird, by an 18th century Peruvian artist. In the same year, a Canadian Christmas stamp reproduced the Madonna and Child by the 19th century Canadian artist, Falardeau. In both original paintings, gold and red, the traditional colours of the season, highlight the richness and preciousness of the subject itself.
Get inspired by some great images and photos in our Madonna and Child Inspiration Gallery
See also: Religious Tattoo Index, Latino Tattoo Index
Madonna and Child Tattoo design ideas at Tattoo Johnny
Tattoo designs - M >> Madonna and Child
---
Tattoo Symbol Index - A B C D E F G H I J K L M N O P Q R S T U V W X Y Z