TATTOO DESIGNS & SYMBOLS - HONEYSUCKLE
Tattoo Symbol Index - A B C D E F G H I J K L M N O P Q R S T U V W X Y Z
---
Tattoo designs - H >> Honeysuckle
Honeysuckle Tattoo Meanings - There are about 180 species of honeysuckle, with by far the greatest diversity in China, where over 100 species occur; by comparison, Europe and North America have only about 20 native species each.
| | |
| --- | --- |
| | Widely known species include Lonicera periclymenum (European Honeysuckle or Woodbine), Lonicera japonica (Japanese Honeysuckle, White Honeysuckle, or Chinese Honeysuckle) and Lonicera sempervirens (Coral Honeysuckle, Trumpet Honeysuckle, or Woodbine Honeysuckle). Hummingbirds are attracted to these plants. |

The leaves are opposite, simple oval, 1-10 cm long; most are deciduous but some are evergreen.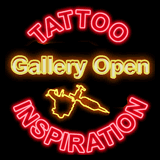 Many of the species have sweetly-scented, bell-shaped flowers that produce a sweet, edible nectar. Breaking of the Honeysuckle's stem will release this powerful sweet odor. The fruit is a red, blue or black berry containing several seeds; in most species the berries are mildly poisonous, but a few (notably Lonicera caerulea) have edible berries.
The Honeysuckle means undying love, and its perfume provoked dreams of passion.
Get inspired by some really great images and photos in our Honeysuckle Inspiration Gallery
See also: Flower & Plant Tattoo Index
Tattoo designs - H >> Honeysuckle
---
Tattoo Symbol Index - A B C D E F G H I J K L M N O P Q R S T U V W X Y Z