TATTOO DESIGNS & SYMBOLS - FLAG TATTOOS
Tattoo Symbol Index - A B C D E F G H I J K L M N O P Q R S T U V W X Y Z
---
Tattoo designs - F >> Flag Tattoos

Flag Tattoo Meanings - Few symbols are as powerful at identifying an individual as belonging to a particular tribe or group than a patriotic tattoo; and there is perhaps no greater symbol identifying a sovereign nation than its flag, so it should come as no surprise that flags are extraordinarily popular as patriotic tattoo designs.
Flag tattoos can be straightforward renditions of a countries flag or they can be heavily stylized.
| | |
| --- | --- |
| | In many cases, flag tattoos are designed to show the colours of the national flag within an outline of the shape of the country in question. This is particularly true of the United States of America. For this style of tattoo, it helps to have a flag-shaped country, but you will often see this design in use in Ireland, Canada, Great Britain with the colours of the Union Jack laid over the islands, France, Australia and many others. |
Flag tattoo designs are a powerful way for an individual to symbolize their love, devotion, patriotism and sense of national pride for their country.
Often times elements of the flag, its central design or its colours will be used to symbolize a patriotic tattoo, such as in Mexico, Brazil, Canada, Lebanon, or Japan.

Since the emotional ties to ones country can be as strong as the bonds we feel for our families, émigrés or immigrants will often get tattoos that pair the flag of their old country with that of their new one.

For individuals serving in the military services of their nation, flags often play a prominent role in the tattoo design that they wear. This is especially true in the military service tattoos of the United States and Great Britain, where "Old Glory", "The Stars and Stripes" and the Union Jack are often central design features in military tattoos. See Also, Military Tattoos
In Memorial tattoos dedicated to fallen comrades, a fallen or draped flag, or a flag a half-mast is a powerful symbol of the ultimate sacrifice, a life given in the service of protecting ones country. See also, Memorial Tattoos.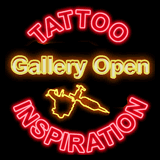 Whatever your flag, fly it with pride.
And speaking of pride, for many members of the gay and lesbian community, tattoos showing the rainbow flag are very popular.
Other groups that have symbols with which they strongly identify will often fly that symbols as a flag. See also, Anarchy Symbols.
Get inspired by some really great images and photos in our Flags Inspiration Gallery
Choose your own flag / patriotic tattoo design from Tattoo-Art.com.
Find and buy the flag / patriotic tattoo design that is perfect for you.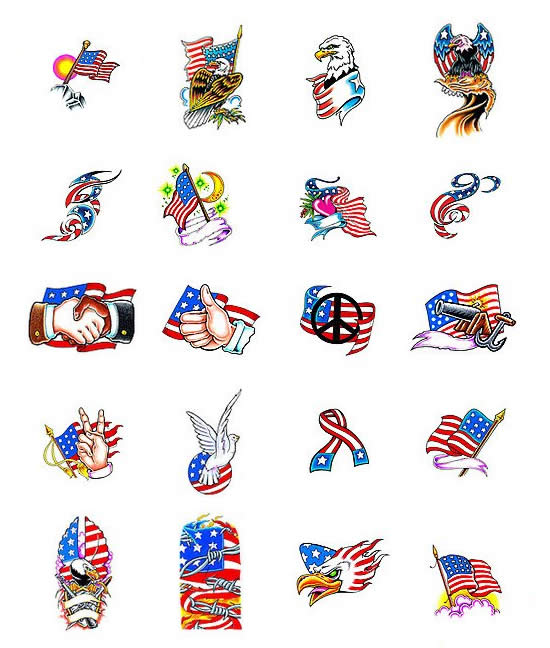 Flag & Patriotic Tattoos and designs at Tattoo Johnny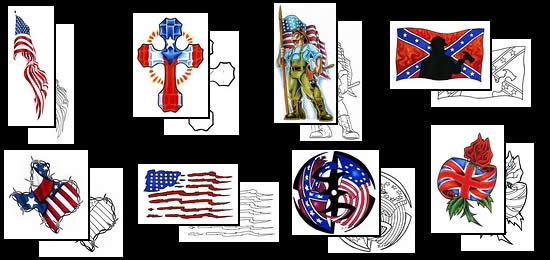 Tattoo designs - F >> Flag / Patriotic
---
Tattoo Symbol Index - A B C D E F G H I J K L M N O P Q R S T U V W X Y Z