TATTOO DESIGNS & SYMBOLS - FIRE DRAGON TATTOOS
Tattoo Symbol Index - A B C D E F G H I J K L M N O P Q R S T U V W X Y Z
---
Tattoo designs - F >> Fire Dragons
Fire Dragon Tattoo Meanings - Of all the mythical creatures, the dragon is the most universal and is prominently featured in hundreds of cultures. Perhaps for that reason, its meaning as a symbol is not always consistent.
| | |
| --- | --- |
| | In the East the dragon is generally considered to be beneficent creature, where as in the West it's more often a primordial enemy with whom combat is considered the ultimate supreme test. Only he who conquers the dragon becomes a hero, according to myth and legend. In conjuring up this most horrific symbol, we have gone back a long way to the dinosaur prototype, and often imagine it breathing fire. |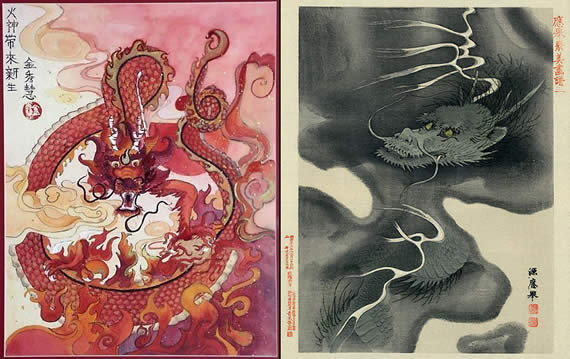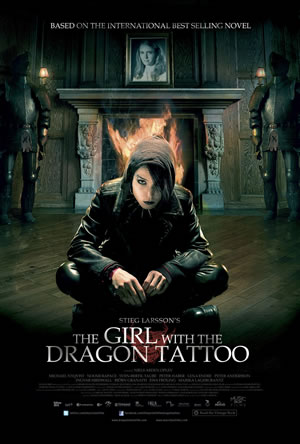 But as a symbol or as a tattoo design, is that a positive or negative attribute? The Gnostics looked on the bright side: "Our Chaos or Spirit is the fiery dragon that conquers all things." To the Chinese, the fire-spitting dragon was principally associated with lightning, and by extension to thunder and rainmaking, which made it a symbol of fertility. All this celestial activity was how Earth and Water elements were united. (See also 'Water Dragon'.) Ancient Emperors couldn't do better than to adopt the dragon as a symbol of the rhythm of existence that ensured order and prosperity. So did Celtic kings. And one Hebrew writer wrote of the Celestial Dragon as a king seated upon his throne.

The rain bearing power of thunder was often depicted as a pearl held in the dragon's mouth or throat. It also stood for the king's purity of thought or the perfection of his commands. "You do not argue with the dragon's pearl," said Chairman Mao.
The word 'dragon' originates in the Greek 'derkein' meaning 'seeing', which explains why the antagonistic dragon also symbolizes vigilance. It is the guardian of temples and treasures. Cadmus, the Theban hero, could only reach the spring of Ares, god of war, by killing Ares' dragon-son.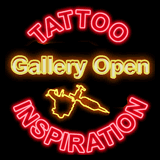 In traditional Japanese tattooing, powerful dragons are often balanced with other tattoo designs that symbolize aspects of yin and yang.
Get inspired by some really amazing images and photos of dragons in our Dragon Inspiration Gallery
See also Water Dragons, Japanese Tattoo Index
Choose your own fire dragon tattoo design from Tattoo-Art.com. Find and buy the fire dragon tattoo design that is perfect for yourself.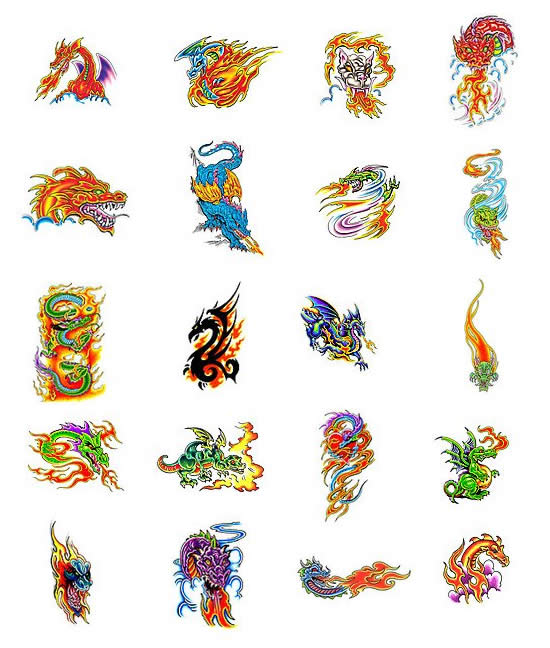 Pick your fire dragon tattoo out a huge selection of different dragon tattoo design ideas by some of the world's top tattoo artists and illustrators at Tattoo Johnny.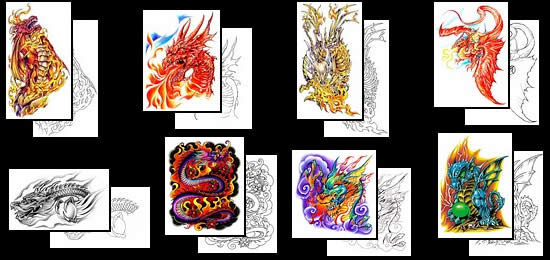 Tattoo designs - F >> Fire Dragons
---
Tattoo Symbol Index - A B C D E F G H I J K L M N O P Q R S T U V W X Y Z