TATTOO DESIGNS & SYMBOLS - DEATH'S HEAD SKULL TATTOOS
Tattoo Symbol Index - A B C D E F G H I J K L M N O P Q R S T U V W X Y Z
---
Tattoo designs - D >> Death's Head Skull

Death' Head Skull Tattoo Meanings - "Death Head" Skull is used to describe a military insignia featuring a skull above crossed bones. It is distinguished from the similar traditions of the skull and crossbones and the Jolly Roger (pirate symbol) by the fact that the bones are positioned directly behind the skull.
| | |
| --- | --- |
| | Although the Death's Head design is often associated with the German SS and Nazism, like the Swastika, the design is considerably older in origin. Both designs have suffered a significant stigma because of their association and use in Nazi Germany. |

It became a popular tattoo design with biker's who used it as a symbol - an amulet or talisman - to ward off and protect oneself from death.

Skulls used in art and as symbols have a rich cultural history, ranging from the great Master painters of the Renaissance, to the art of the Church, to the legions and battalions of Armies across Europe.

For more see : Skulls
Choose your own Skull / Death's Head Tattoo Design by the world's top tattoo artists to buy the perfect design for you.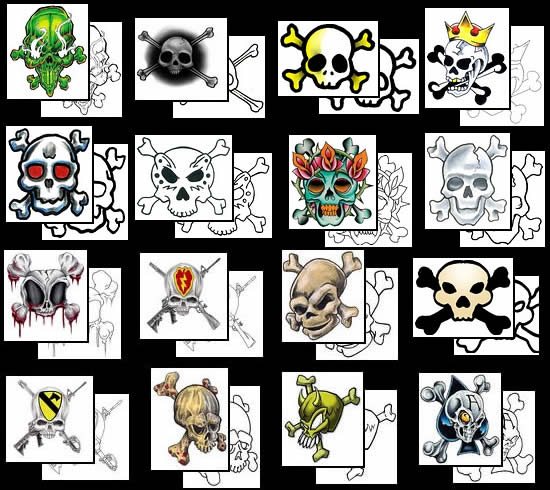 Get great Skull designs on t-shirts, hats, sweatshirts, bags & more.
Tattoo designs - D >> Death's Head Skull
---
Tattoo Symbol Index - A B C D E F G H I J K L M N O P Q R S T U V W X Y Z