TATTOO DESIGNS & SYMBOLS - CHINESE CHARACTER TATTOOS
Tattoo Symbol Index - A B C D E F G H I J K L M N O P Q R S T U V W X Y Z
---
Tattoo designs - C >> Chinese Characters
Chinese Character Tattoo Meanings - A Chinese 'character' is a logogram -- meaning a sign that represents a word. A reported 50,000 of these 'hanzi' characters make up the writing system for the Chinese language. That number has been officially slashed to a more manageable 6,000. Arguably the oldest surviving writing system in the world, the hanzi characters are said to have been invented by an official in the court of the legendary Emperor Huangdi in 2600 BC.
| | |
| --- | --- |
| | Cangjie was his name, and he must have been indefatigable to invent such a vast number of pictograms. Most likely he collected and collated characters that were scattered throughout ancient China, and may have begun to standardize these proto-writings in order to turn them into a true writing system, the first evidence of which are inscriptions found on tortoise shells dating back to the Shang Dynasty (1766-1123 BC). |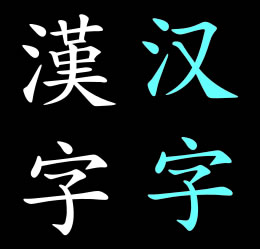 Thousands of years later, modern Chinese characters still bear a resemblance to the script on those famous 'Oracle Bones'.
Written in columns, the Chinese characters are read from top to bottom, and from right to left.
Among those first characters, we see depictions of common objects like a tree and moon, a hand and a foot, mountain and sun. These symbols morphed slowly over time, until a good imagination is now required to recognize the original object. Less than 5% of all Chinese characters are straight pictographs. These simple characters were then combined to form little 'stories', or affixed with an 'indicator' to form more complex characters that served to denote abstract concepts. This category of character makes up a tiny fraction of the Chinese writing system.
Most of the characters - 90% of them - are picto-phonetic compounds, meaning that they're used for their sounds instead of their meaning. The English equivalent would be drawing an 'eye' to portray 'I', 'waves' to mean 'see', and the letter 'U' for 'you'. (I see you.) In this way, Chinese is really a means to represent the spoken language.
Although Mandarin and Cantonese are two distinct languages, the writing system for each is the same. While pronunciation may be a barrier from one language to the other, the Chinese writing system has remained faithful to ancient times.

In addition, many Chinese characters were adopted according to their meaning by the Japanese and Korean languages to represent native words, disregarding pronunciation altogether.

Chinese characters are also known as sinographs, and the Chinese writing system as sinography. Non-Chinese languages which have adopted sinography-and, with the orthography, a large number of loanwords from the Chinese language-are known as Sinoxenic languages, whether or not they still use the characters. The term does not imply any genetic affiliation with Chinese. The major Sinoxenic languages are Japanese, Korean, and Vietnamese.
Get Chinese character designs on t-shirts, hats, sweatshirts, bags & more.
See also: Japanese Tattoo Index
Choose your own Chinese character tattoo design from Tattoo-Art.com.
Find and buy the Chinese character tattoo design that's perfect for you.
Check out all these different Chinese character tattoo design ideas by some of the world's top tattoo artists and flash illustrators.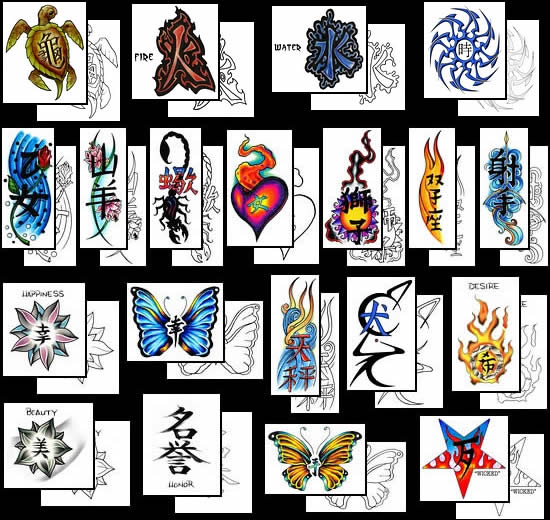 Tattoo designs - C >> Chinese Characters
---
Tattoo Symbol Index - A B C D E F G H I J K L M N O P Q R S T U V W X Y Z