TATTOO DESIGNS & SYMBOLS - BETTY PAGE TATTOOS
Tattoo Symbol Index - A B C D E F G H I J K L M N O P Q R S T U V W X Y Z
---
Tattoo designs - B >> Betty Page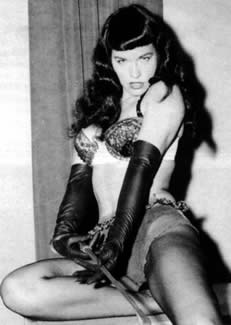 Bettie (Betty) Page Tattoos- Betty Mae Page became famous in the 1950s for her fetish modeling and pin-up photos. While she faded into obscurity in the 1960s after her conversion to Christianity, she experienced a resurgence of popularity in the 1980s and now has a significant cult following.
Nicknamed the "Girl With The Perfect Figure", in 1955 Betty Page won the title "Miss Pin-up Girl of the World".
Bettie's allure was an image of the girl next door with an attitude that hinted at a love of the naughty. Her image on camera was shy and daring at the same time, simple, yet exotic.
The DC Comics villainess Poison Ivy was drawn, in her early appearances, to resemble Bettie Page.
Her influence is still evident today in fashion, films, and popular culture. The dark-haired girl has become a living legend, a modern icon, a symbol of beauty and femininity that continues to inspire generations of women.
| | |
| --- | --- |
| | Bettie will forever remain the "Queen of Pinup" and an inspiration to tattoo artists and tattoo aficionados everywhere. Many tattoos of pin-up girls bear a strong resemblance to Betty Page. |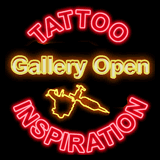 Get inspired by some really great images and photos in our Bettie Page Gallery
See these galleries for more pin-up photos and art: Gil Elvgren, Boris Vallejo, Alberto Vargas, pin-up inspirational gallery.
Choose your own Betty Page Tattoo Design by the world's top tattoo artists to buy the perfect Betty Page design for you.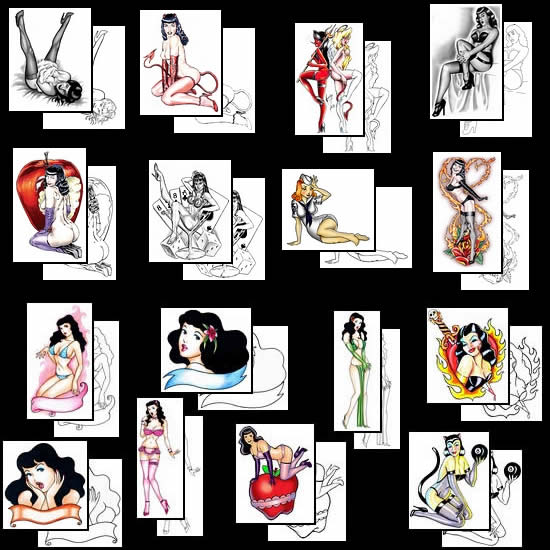 Tattoo designs - B >> Bettie Page
---
Tattoo Symbol Index - A B C D E F G H I J K L M N O P Q R S T U V W X Y Z