TATTOO DESIGNS & SYMBOLS - JEWISH TATTOOS
Tattoo Symbol Index - A B C D E F G H I J K L M N O P Q R S T U V W X Y Z
---
Tattoo designs - J >> Jewish

Jewish Tattoos - Many Jews still take Leviticus seriously, while others see the prohibition aimed at indelibly marking yourself with symbols associated with some other belief system. In which case, any religion-neutral tattoo would be fair game, along with any of the striking Jewish symbols themselves. Without doubt, many Jewish people get tattoos, and their favorites have long been the Star of David, the menorah, the name of Yahweh, and the nine-pointed star called the enneagram.
| | |
| --- | --- |
| | The Star of David, or magen David ('Shield of David'), is a strong symbol of Jewish identity, and as a hexagram it represents the interaction of the Divine with the mortal. It gets its name from the tradition that David carried a hexagram-shaped shield during his defeat of the giant Goliath. It has strong links with the Kabbalah, and is sometimes known as the Seal of Solomon or the Creator's Star. |

When the Star of David is called the Creator's Star, the six points each represents a day of the week and the center corresponds to the Sabbath. It is a strong symbol of Jewish identity, and remained so even during the days of Nazi persecution when Jews were forced to wear a yellow hexagram as an identifier. The Star was incorporated into the flag of the State of Israel in 1948.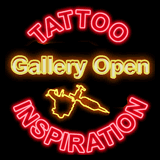 Get inspired by some great images and photos in our Jewish Inspiration Gallery
See also: Religious Tattoos, Leviticus, Star of David, Religious Tattoo Index, Hebrew Tattoos
For more info about Jewish tattoos see: Jewish Tattoo History
Tattoo designs - J >> Jewish
---
Tattoo Symbol Index - A B C D E F G H I J K L M N O P Q R S T U V W X Y Z