Hans-Peter Muff was born in 1958 in Lucerne, Switzerland. While he was being trained to become a decorator he already started practising nude photography as well as perfecting his laboratorial skills to parallel his apprenticeship.
In 1982 his first projects "Lichtspuren" and "Schwarzweiß Kontraste" (which mean"Ttraces of Light" and "Black and White Contrasts") were developed. A new "point of view" in Video Films - including dia shows and other experiments - complimented his creations in photography followed by years busy with exhibitions in Switzerland and Film festivals in Tokyo, Berlin, Zagreb, and Switzerland.
In 1991 he started medium format photography after buying an old HASSELBLAD 500c .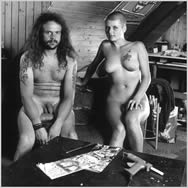 Reporting from the world between men and women. You find the eroticism of his models only by reading between the lines and it first manifests itself when the surrounding room is regarded as well. One of the greatest talents of this artist is how he evokes the imagination of his viewers in such a superb way.
IMAGES in this GALLERY
COPYRIGHT© H@NSPETER MUFF
ALL RIGHTS RESERVED