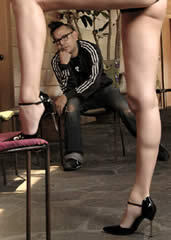 PHOTOGRAPHER OCTAVIO WINKYTIKI

About me ... If anyone cares to know:
I have no formal photographic training... sometimes I wish I did, somehow I get by-though I have my days as you've probably noticed some of the photos here are pretty lacky... But don't blame me for trying.
I love girls! and I love taking photos of them.
I still use film and a trusty Nikon F. Why? ...Coz I care. This brick with a lens was good enough for the boys in 'Nam, therefore It's good enough for you.
When I'm not taking photos, I'm either at the strip club or at a rock n' roll bar
I drive a truck... made in America.
I survive on meat, whiskey and coffee.
I like my music loud and fast.
I prefer VHS.

and last but not least..."it ain't art, just entertainment!"