BRIAN MOSS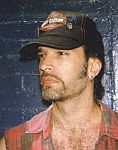 In the early eighties I opened Better Bodies Gym in the city which I was born and raised, New York. From the vantage point of my gym, which quickly became a hotbed for local bodybuilders, I became an active participant in the birth of women's bodybuilding and the growth of men's bodybuilding. Many of these competitors remain close friends, and my experiences with them have afforded me a level of trust and intimacy that these women do not usually allow, let alone with a camera.

In 1997 I picked up a camera for the first time since childhood and casually started to photograph the top women and men in the sport of fitness and bodybuilding. After everything else I had done in the sport, this felt like a very natural progression for me. My images are unguarded, honest and voyeuristic. Whether they capture stolen moments backstage at the Ms Olympia, or private moments in a bodybuilder's hotel room hours before stepping out on stage, these images are imbued with an intimacy that has never been seen before.

My work seems to continually evolve as I continue to try to follow my heart and shoot what I love. My photos have appeared in such popular publications as Muscle & Fitness, Flex, Gear Magazine, Mens Journal, and Penthouse and at The New Museum of Contemporary Art.
You can find more of his work at: www.brianmoss.com