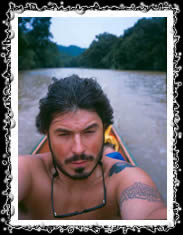 Leaving behind the San Francisco gallery 'scene' for points north, Lars Krutak began tattoo research in 1996 as a graduate student at the University of Alaska Fairbanks. Trained as an archaeologist and cultural anthropologist, he spent three years exploring the complex symbolism and practice of tattoo throughout the Arctic.
This work culminated in an unpublished Master's thesis entitled "One Stitch at a Time: Ivalu and Sivuqaq Tattoo" focusing on the traditional tattooing of the St. Lawrence Island Yupiit.
After a brief stint as a Ph.D. candidate at Cambridge University in England, he returned stateside where he was employed for several years as a Repatriation Research Specialist at the National Museum of the American Indian, Smithsonian Institution.
Later, Lars worked as a Research Collaborator at the National Museum of Natural History, Smithsonian Institution, and today he is a Ph.D. student at Arizona State University, where he is the guest curator for the exhibition Skin Deep: A Cultural History of Tattooing at their Museum of Anthropology. Accounts of his ethnological work in the Far North (and elsewhere) have been published in academic journals and tattoo magazines in Russia, Germany, Canada, England and the USA.
Lars is also a contributing author of the "Tattoo History: A Source Book," edited by Steve Gilbert and printed by Juno Books and was a co-recipient of the 2003 American Book Award for work on "Akuzilleput Igaqullghet, Our Words Put to Paper: Sourcebook in St. Lawrence Island Yupik Heritage and History" published by the Smithsonian Institution's Arctic Studies Center.
Apart from the Vanishing Tattoo, Lars has also appeared on these two National Geographic Channel television documentaries:
Taboo - Body Art (2004)
Tattoo - Under the Skin (2005).
Check out Lars in his TV series Tattoo Hunter on the Discovery Channel.
Look for Lars' book focusing on the tattooing arts of indigenous women from Bennett & Bloom publishers.
Check out some of his fine tattoo articles below:
Tribal Tattooing in California and the American Southwest

Tattooed Tribes of the Amazon

Tattoos of Sub-Saharan Africa

Tattooing in North Africa, The Middle East and Balkans

Embodied Symbols of the South Seas: Eastern Oceania

Tattoos of Indochina: Supernatural Mysteries of the Flesh
Wen Shen: The Vanishing Art of Chinese Tribal Culture
The Kalinga Batok (Tattoo) Festival
Many Stitches for Life:
The Antiquity of Thread and Needle Tattooing
Tattooing in the Gran Chaco of South America
The Tattooed Headhunters of Taiwan
Tattooing Among Japan's Ainu People
In the Realm of Spirits: Traditional Dayak Tattoo in Borneo
Tattoos of the Early Hunter-Gatherers of the Arctic!
Piercing and Penetration in the Arctic
The Last Tattoos of St. Lawrence Island
North America's Tattooed Indian Kings
Tribal tattoos of Papua New Guinea
Sacred Skin - Tattoos of Easter Island
Kosovo: Tattoo Art Amid the Ruins
Four Tattoo Artists in Havana, Cuba
The Vanishing Tattoos of China's Li People
Tribal Tattoos of Mozambique's Makonde
The Oldest Tattoo Shop in Greece
Return of the Headhunters: The Philippine Tattoo Revival
Women Tattoo Artists of Northern Borneo
Borneo's Tattooed Women Warriors - Weavers of the Skrang Iban
Vladimir Smith - Dermografo (Skin Artist) de Tepic, Mexico

The Mundurucú: Tattooed Warriors of the Amazon Jungle
Crest Tattoos of the Tlingit and Haida of the Northwest Coast