Japanese, American, and tribal tattoo masters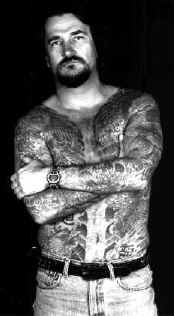 "A hundred and forty nine bucks gets you a tattoo gun by mail order," says Vancouver tattoo artist THOMAS LOCKHART. "A case of beer later, you and your friends are scarred for life."
Lockhart despairs over the state of modern tattooing. He admits, however, that he was young once, too, and traveled the world for women, beer, and an assortment of thrills that included not just a few tattoos. While those travels were youthful exploits devoid of deeper meaning... Lockhart became an apprentice by default, hanging out with Japanese, American, and tribal tattoo masters, absorbing the expertise he would need to make his own mark within the tattoo tradition. For Thomas Lockhart, skin ink would become his art... his obsession... his entire life.
Lockhart is now embarking on another journey to pay his respects to those masters -- and to revisit the disappearing origins of tattoo art -- traveling even to Borneo's legendary Valley of the Headhunters in order to acquire one last authentic tattoo.
If Indiana Jones was a tattoo artist...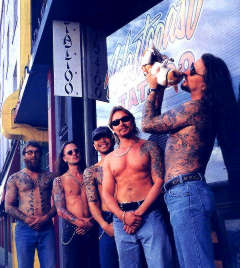 Lockhart's Westcoast Tattoo on Vancouver's Davie Street is the oldest continuously operated tattoo studio in Canada. Outside, Tom's Harley is parked at the curb. Inside, the walls of the anteroom are papered with tattoo flash from around the world. Primitive hand-tapping equipment from Lockhart's travels sit displayed in glass cases, and tall bookcases are jammed with volumes on art history. -- If Indiana Jones was a tattoo artist, he'd live here-- In a stainless steel sink not far from his master's side, sleeps Rat Dog, a tiny pooch with a pierced ear, his own tattoo, a raspy cough, and a fancy for beer. He's a classic case of man's best friend and, no doubt, puts first time customers at ease. (Sadly, Thomas reports the loss of his little friend, Rat Dog on Thursday, September 23, 1999, during their last motorcycle ride together. RIP Rat Dog)

A sexual statement, or...
Crossing the threshold of a tattoo studio for a first tattoo can be a nervy business. Even if you have your reasons, can you find the words? You suspect you're an extrovert, which would explain it. Perhaps it's a sexual statement, or does the tattoo in your mind's eye express your inarticulate view of the world. Lockhart won't be party to anyone's indelible regret, however -- so no swastikas or gang insignias. No lover's names and no tattoos on hands or faces.
---
Copyright © 1999- www.vanishingtattoo.com All rights reserved.