HOME
TATTOO BLOG
SYMBOLS & DESIGNS
CELEBRITY TATTOOS
TATTOO PHOTOS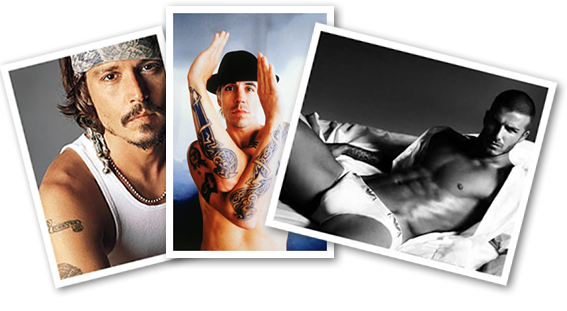 In a top secret location, a melting pot of pretty young maidens converged for a wine and tattooed fueled evening to discuss the 101 Hottest Tattooed Men in the World for 2009. From sweet to sexy, brainy and brawny, names were tossed back and forth while the girls were given a chance to voice their opinions. We purred and cooed over the various candidates, their tattoos and half naked torsos. We endlessly searched the internet for skin shots of our favourite celebrities to bring you the most accurate and visually arousing list. Yes it's a tough job, but somebody's got to do it. You can thank us later!
Four bottles of fine red later, we (somewhat soberly) rallied for our favourite picks, to form the list that you see here. All the usual suspects are in attendance; Brad Pitt, Justin TImberlake, and Anthony Keidis, to name a few. We've sourced some avant-garde beauties; Josh Beech, Alexander Skarsgard and Nathan Followill. We also came across some youthful, up and coming hotties; Ryan Sheckler, Shia LaBeouf and Ash Stymest. If you're not familiar with all these names, we're here to help you get acquainted. We praise many of the boy's on our sacred list and take the thunder out of a few who take themselves too seriously. We promise, it's all in good fun!
And without further introduction, we bring you, the Vanishing Tattoo's 101 Hottest Tattooed Men in the World 2009. Feel free to argue amongst yourselves and enjoy the scenery! SEE THE NEWLY UPDATED LIST FOR 2010!