BEYOND THE EYE OF THE NEEDLE
by Pauline Clarke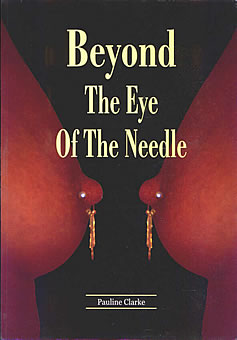 This book is by way of a sequel to the Pauline Clarke's previous book The Eye of the Needle. Beyond The Eye of The Needle leaps forward through a decade of events since those early days of Body Piercing.
Beyond The Eye Of The Needle contains many beautiful full page photographs of male and female's showing their interest in body piercing wearing a variety of body jewellery.
This publication presents piercing placements, multiple examples and stretched piercings. From facial, nipple, navel to genital. It features the various groups of people that are all part of the fraternity of "Body Piercing Enthusiasts" portraying its significance as a part of life.
"As the years unfold it explores the changing outlooks, modern ideas and remaining facts and fantasies that surround this age old practise of personal body adornment."
"Through the pages life journeys on to depict some of the latest trends in body piercing and its jewellery accessories."
Beyond The Eye Of The Needle
IBSN 0952817918
Size A4 152 pages
Colour photos/Text
Order this book through Amazon UK
** Or get this book direct from the author with immediate availability
153 Tomkinson Rd.
Nuneaton, Warkwickshire
CV10 8DP United Kingdom
piercingworlduk@yahoo.co.uk

All books by Pauline Clarke and Piercing World Magazines can be purchased on line from anywhere in the world at the Piercing World on line shop .SEE
www.piercingworld.co.uk
---
SPHERES OF ADORNMENT
by Pauline Clarke
Spheres Of Adornment incorporates Body Piercing / Tattoo / Fetish Dress.
While exploring the fascinating realm of body decoration, this book highlights full page photos of decorated people of alternative facets, showing body jewellery, tattoo styles, provocative P V C and leather wear.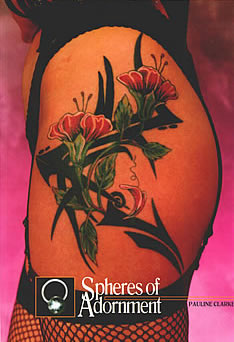 Spheres of Adornment describes the attraction, of dressing up, from facial to full body coverage, the allure and magnetism of its various forms and costume.
"A combination of colour and sparkle intermingled with the more dramatic hues on the darker side as paths cross the threshold of fetish fantasy, submission and domination amidst the realm of body adornment"
"Body jewellery finds a place in all walks of life, status, culture or society, class or creed. Simple to elaborate, whatever the cause, it will be seen from here to eternity"
"People are drawn to tattooing for all manner of reasons where -- expression, love, emotion, dedication, nostalgia and sentimentality are told."
SPHERES OF ADORNMENT by Pauline Clarke
ISBN 095281790X
Size A4 Colour Photos / Text
Order this book through Amazon UK
** Or get this book direct from the author with immediate availability
153 Tomkinson Rd.
Nuneaton, Warkwickshire
CV10 8DP United Kingdom
piercingworlduk@yahoo.co.uk

All books by Pauline Clarke and Piercing World Magazines can be purchased on line from anywhere in the world at the Piercing World on line shop .SEE
www.piercingworld.co.uk