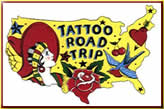 THE PACIFIC NORTHWEST
by Bob Baxter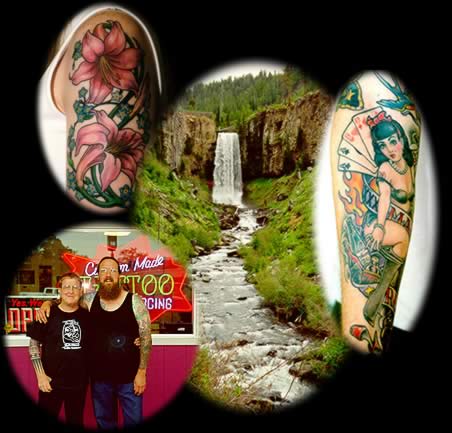 TATTOO ROAD TRIP - THE PACIFIC NORTHWEST
(From the Baxter Books website)
Travel along behind the scenes with Skin & Ink editor on his two-week solo journey through the small towns and big cites of America's Pacific Northwest. From the Oregon-California border, northward to Washington State and over the border to Vancouver, B.C., every day is a new adventure, as Bob meets the exotic women and lusty men who proclaim their individuality from Grants Pass to Seaside, Seattle to Surrey. Meet the living legends of the art - Terry Tweed and Dave Shore, Pete Stephens and Don Deaton, John the Dutchman and Vyvyn Lazonga. Talk with the World's Most-Tattooed Woman, Krystyne Kolorful. Check out the new wave of ink sinkers, from Anchor Tattoo to Electro-Ladylux, Tiger Lily to Lucky Dog. And say a graveside good-bye to Bert Grimm, the man who tattooed Bonnie and Clyde.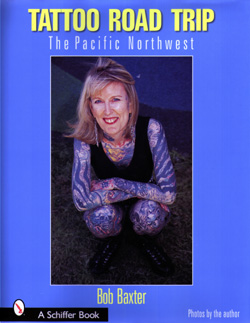 Armed with only his camera, a laptop computer and a box of energy bars, Bob Baxter sets out to discover the tattoo pulse of the Pacific Northwest. Meet many of the great artists in the mysterious shops and secret backrooms of this, the most exciting art movement since the Renaissance!
Tattoo Road Trip - The Pacific Northwest
Schiffer Books, Atglen, Pennsylvania
Text and photographs by Bob Baxter
224 pages, 8 1/2 x 11 inches, Hard Cover
400-plus full-color photographs, illustrations and flash
Ordering information for this book