BRINGING SEXY BACK:
TLC'S SERIES LA INK FEATURES TOP FEMALE TATTOO ARTISTS
In her time on LA Ink, fans have watched Kat go from celebrated tattoo artist to fully developed entrepreneur. In the past year, Kat launched a successful line of cosmetics at Sephora and had her book hit The New York Time's Best Sellers List. As her profile has risen, so has the shop's business - and the pressure to succeed.
All of this leads into a new season that finds Kat facing familiar challenges, but quickly explodes with a level of drama and action never seen before. Kat Von D, known for her no-nonsense, tell-it-like-it-is demeanor has made an indelible mark on the tattoo industry. Her success in a male dominated field is inspiring, but it comes with its share of stress. While Kat is focused on expanding her product line and writing a new book, the shop faces unexpected - and unwelcome - changes. The introduction of new shop manager, Aubry Fisher, (from Rock of Love fame) was just one example.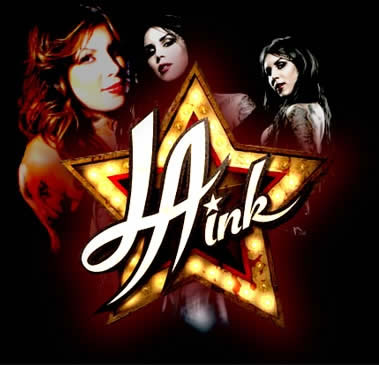 Playing by her own rules, Kat lives a fast-paced, rebel lifestyle. Hers is a life of freedom: she sets her own schedule, picks her clients, sleeps late,and parties all night. For her shop to be a continued success, Kat will need to learn how to balance her lifestyle and her business while managing a colorful staff of renowned artists. LA Ink offers a rare glimpse into an LA that is seldom seen, through the eyes of a true insider.
Through TLC's hit series MIAMI INK, artist Kat Von D tattooed her way onto the world's stage, becoming one of the most talked about and sought after tattoo artists on the planet. Throughout her 11-year career, Kat has worked alongside men, not only surviving, but thriving. Now, after leaving Miami for her home-town of LA, she is realizing a dream by opening up her first business.
In Season One - joining shop owner Kat Von D at LA INK were renowned tattoo artists Kim Saigh, Hannah Aitchison and Kat's mentor, Corey Miller. The shop manager holding everything together was Kat's good friend, Pixie. With the majority of the artists in the shop being woman, LA INK shows that great art shares no gender bias.
"LA Ink" Season 4 picks up immediately following the Season 3 cliffhanger, which found Corey Miller—the last founding member of Kat's shop, High Voltage—walking out. Despite the ongoing drama at work, Kat's life is going full throttle: she's writing her second book, introducing new products for her beauty line and expanding her shop, High Voltage, with a new event space next door.
She juggles the tattoo business, the burgeoning Kat Von D brand, her relationship with rocker and radio personality Nikki Sixx, while still connecting with fans and media worldwide. However, despite her success and unique lifestyle, Kat has a decision to make—does she leave the door open for Corey to return or does she take what she's learned and turn the page.

"LA Ink" is produced for TLC by Original Media and executive produced by Gil Lopez.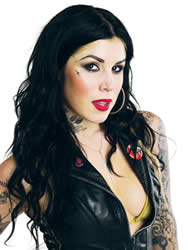 Kat Von D was one of the featured artists on the first two seasons of MIAMI INK, which has traveled the globe, airing in many countries including Japan, Australia, Brazil and England. TLC's season two finale, was watched by over 3,000,000 people*. Kat specializes in fine-line, black & gray style life-like portraits. In more than a decade of being a professional tattoo artist she has amassed a devout following including over 1,372,000 friends on her myspace.com page and thousands more checking her out at TLC.com/LA-Ink. In addition, many celebrities, athletes and entertainers seek out her services such as Jackass' Bam Margera; Steve-O and Ryan Dunn; Slayer; My Chemical Romance; Guns N Roses; Green Day; The Mars Volta; Eve and Mira Sorvino.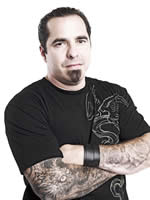 Joining Kat at her new shop was Corey Miller, a legend in the industry. Tattooing for over 25 years, this California native has inked people all around the world from Japan and Amsterdam to Hawaii and Paris. He specializes in black & gray portraits and dragons that merge the traditional and classic styles with his own. A true master, Corey is known for his freehand work, drawing the image directly onto the skin, foregoing any stencil. He has an extensive client list, including celebrities like James Hettfield from Metallica, Jason Giambi of the NY Yankees and Jesse James. In his spare time, this married father of three enjoys playing the drums.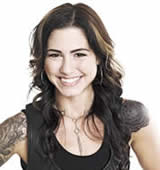 A fanatical yoga practitioner, tattoo artist Kim Saigh takes a lot of the teachings of the discipline and puts it into her art. Allegorical and illustrative works that express movement and flow dominate Kim's portfolio. Tattooing professionally for 16 years, Kim first got her start in her native Cleveland, moving to Chicago and opening her first shop a few years later. Kim now splits her time between LA and Chicago but always has her black Persian cat, Geezer with her.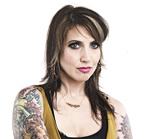 Hannah Aitchison has been tattooing for over a decade. Specializing in bold, colorful, illustrative works including life-like portraits, pin-ups and classic Americana, Hannah enjoys a technical challenge in the tattoos she creates. A single mom, Hannah worked two and three jobs while apprenticing just to support her daughter. When not tattooing or spending time with her daughter, Hannah enjoys painting, knitting, boxing and traveling.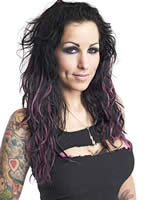 LA INK shop manager, Pixie loves to surround herself with bright, colorful, "yummy" things. Judging by the elaborate, colorful tattoos of cupcakes, Care Bears and other assorted "happy" visions, and intense body modifications that adorn her body, Pixie has a zest for life. The former Fear Factor game show winner is a Pescatarian (vegetarian who eats fish), loves animals and lives in Los Angeles with her two pitbulls, Cup Cake and Chopper, and her cat, Monkey. Before moving to LA four years ago, Pixie was a body piercer at a tattoo shop in Minnesota. These days, when not working at the shop she is a freelance make up artist.
TLC is a property of Discovery Communications, the number-one nonfiction media company reaching more than 1.5 billion cumulative subscribers in over 170 countries. Through TV and digital media, Discovery's 100-plus worldwide networks include Discovery Channel, TLC, Animal Planet, The Science Channel, Discovery Health and Discovery HD Theater. Discovery Communications is owned by Discovery Holding Co. (NASDAQ: DISCA, DISCB), Advance/Newhouse Communications and John S. Hendricks, Discovery's founder and chairman. For more information please visit www.discovery.com.
---