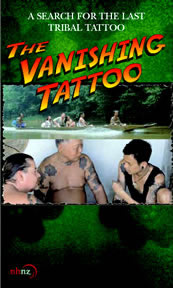 The Vanishing Tattoo is a celebration of the ancient art form of tattooing and it's oldest practitioners. Yes, traditional tattooing has come under extreme pressure, primarily from forces exerted from outside the culture. Nevertheless, the focus of The Vanishing Tattoo is on indigenous peoples who are wearing their traditional tattoos proudly and without shame. Our goal is to deliver this simple message: Despite globalization, many traditional cultures are finding a way to hang on to the traditional arts like tattooing. We hope that through film and this web site that we can continue to convey that message.
In an attempt to document the ancient tattoo practices before they vanish forever, renowned Canadian tattoo artist Tom Lockhart, and writer and historian of tattoo lore Vince Hemingson venture on a grueling journey deep into the heart of Borneo's jungle to meet the last remaining Iban tattoo artists...
Not long ago, the Iban people of Borneo were elaborately decorated with boldly designed tattoos depicting the story of their life experiences. But today, among younger generations of Iban, this unique traditional art is dying out.
In what little tattooing remains, the ancient method of handtapping has been replaced by electric machines, and the deeply spiritual and personal traditional designs have been replaced by widely-adopted western images.
Reviews
Thomas Lockhart and Vince Hemingson are two beefy Canadians with a personal and anthropological interest in tribal tattoos. In this engrossing documentary they head up the Sekrang River in Borneo to document the dying art of hand-tapped tattoos sported by the Iban, a tribe of former headhunters who believe the markings make them visible to their gods. In a longhut hung with skulls, Vince succumbs to the needle — and starts a new craze that could keep the Iban's traditions alive.
GS, 
London Times Online
"In the style of Indiana Jones, adventurers Hemingson and Lockhart take participant observation to the max in this gritty, passionate and, best of all, ethnographically accurate exploration of the little-known world of indigenous Iban tattooing."
Dr. Dorothy Kennedy, Cultural Anthropologist, Co-Author of Indian Myths and Legends from the North Pacific Coast of North America with Ethnographer/Linguist Randy Bouchard
I was way up river in Iban country in the early 70's. The Vanishing Tattoo is a great film that captures every detail as I remember it. For most it's a hot, humid, damp Hell Hole, but to some, it's paradise. Make plans to see The Vanishing Tattoo and enjoy everything about this tattoo adventure. Plus it'll save you a long, hot, wet boat ride and a few blisters on your ass." 
Lyle Tuttle, 
Tattoos.com
"WOW!" 
Flo Makofske, 
National Tattoo Association
"The Vanishing Tattoo is a fascinating film that goes in search of the magic behind the ancient art of tattooing. The film reveals tattooing as a timeless aspect of human culture, one that is in danger of disappearing. You won't want to miss this amazing journey into the heart of Borneo -- its tattooing and its people." 
Adam Sky, 
Tattoodles.com
"The history of tattooing is fragile. Projects like 'The Vanishing Tattoo' are important and necessary if we are to keep our history alive." 
C.W. Eldridge, 
Tattoo Archive
"Plain and simple, no one is doing the important work of documenting the sacred art of tattooing among the indigenous tribes of the world except Hemingson and Lockhart. They should be commended and supported by all those who view tattooing as an important link between cultures -- past and present. Because of their vision, we can learn our connection to our fellow men and women, whatever their religion, color of skin or rites of passage. We at Skin & Ink applaud these two kilted lads for their audacity, perseverance and triumph over staggering odds."
Bob Baxter, 
Editor in Chief, 
Skin and Ink Magazine