By Bob Baxter
Vince Hemingson asked me to write a preamble to an event he calls The Tattoo Project, an earth-shakingly wonderful gallery show, scheduled at the Performance Workshop Granville Island, on the weekend of November 26, 27 and 28. The "opening night gala" will feature free admission and one gratis cocktail ticket. That said, here's the skinny on photographers who take pictures of tattooed people, which is what Vince's event is all about.
I have already penned a few words about this gallery showcase, elsewhere on this site. I talk about the fact that Hemingson pulled off the nearly-impossible, by gathering one hundred tattooed models (men, women and others) to be photographed by Vancouver, B.C.'s best photographers, some who were familiar with the art of tattoo and others who were not. It was a three-day event, the logistics of which Hemingson described as "trying to herd a bunch of cats."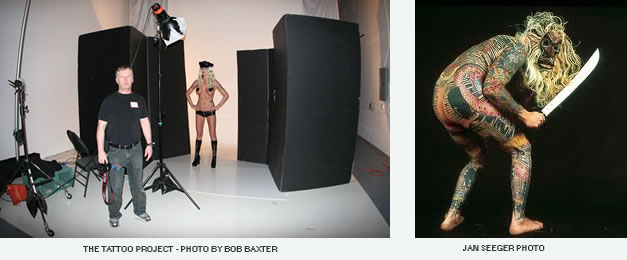 It was interesting for me because, over the last fifteen years as editor of the nation's leading tattoo magazine, I have worked with the best photographers in the business. The first I came in contact with was Jan Seeger. When Larry Flynt first hired me to run his tattoo magazine, I found a copy on the newsstand and was blown away by Seeger's full-page images of tattooed people just sitting there, staring out at you, doing nothing. The photos were clear, amazingly dynamic and like nothing I had seen before. The element that struck me most was the personality of the models. They were usually tattoo artists or their customers, but, in almost every case, something more was projected from the pictures than just tattoos. It was as if the body art caused a chemical reaction that would have otherwise been dormant, hidden deep inside the person. The person. The ink. One enhanced the other. It was more than just a photograph; it was an unveiling.
Although Seeger had been a regular with the magazine, I began my tenure working almost exclusively with Maurice Pacheco. He was a friend of my tattooist son Jesse Tuesday and was great fun to work with at conventions. He always came up with publishable images, even though he would, sometimes, disappear for hours, within a fog of smoke and mirrors. But he always emerged, unscathed, with images both surprising and technically solid. I especially remember some cross-processed photos that he did of several artists from the New York City Tattoo Convention. Cross processing, in case you don't know, is when you develop slide film as a negative, and all the colors are reversed and bleeding. Very cool.
Another great photographer who caught my eye was Dianne Mansfield. I had published a captionless photo of the legendary tattoo artist Paul Rogers, and Dianne contacted me. She asked that her name as photographer be printed, which I was happy to do. As with all of Dianne's best photos, they were straightforward, photo journalistic shots that included, not only the subject, but the events surrounding the subject. You learned something from her photos. They weren't just photos of people; they were photos of moments in people's lives.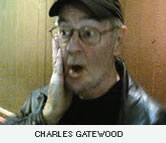 Charles Gatewood has been photographing the tattoo scene since the 1970s. Known primarily for documenting the quirky aspects of the body art scene, Gatewood brought a third element to his photos, namely, playfulness. Charles combined the visual with the sensual. The strength of his images was often enhanced by the element of danger, the sense that you were looking at something that, if your parents found out, you'd get a spanking. But even more than that, the spanking would be done by a women with pasties and a G-string, or a man with his penis tattooed green, like a dragon.
The photographer that I feel was the easiest to work with and the most adaptable is Bernard Clark from Canada. Bernard and I teamed up, after he sent a letter to me, asking if I would publish some of his images. What followed was a twelve-year relationship in which Bernard was my right-hand man at conventions, shop interviews and artist profiles from San Antonio to Samoa. He was not only technically brilliant, he listened to my ideas about a particular shot, instead, as with most other photographers, of doing it his way or no way (I've hired some photographers who, at the mere mention of shooting a model at a particular way, went ballistic). Because of this, Bernard would shoot only subjects that fit the magazine, not just anyone who happened to have a tattoo. In this way, the quality of his photos tend to surpass those of photogs who are more concerned with quantity. The best thing about Bernard Clark's photos is the character, the warmth and the personality that the subjects project. There seems to be something in the way that Bernard works that trips a special switch in his subjects and turns on a celestial light behind their eyes. Perhaps it's because he realizes that a good photo needs only two elements: a visually interesting subject and a camera. It doesn't require a lot of extras, like an inflated ego or pushy behavior, for example.
In my Vanishing Tattoo 101 Most Influential People in The World of Tattooing list, I talk about three other photographers, namely Billy Tinney, Richard Todd and John Wyatt. Of the three, John Wyatt has devoted several projects, including an excellent book, Under My Skin
, to posing his tattooed subjects in actual living and working environments. Through this coupling of elements, Wyatt's technique blends elements of fine portraiture with random snapshots. It's as if his subjects are caught in the middle of being exactly who they are, in the everyday world in which they live. Nobody does it better than John.

Richard Todd and Billy Tinney are excellent at what they do, as is an equally talented compatriot of theirs, Bill DeMichele or, as he likes to be called "Billy D." Kind of like Mickey D, after the McDonald's hamburger restaurant. But maybe that's a clue to the way these three photographers work, or rather, what these three bring to their photo shoots. In other words, their personalities. Their BIG personalities. While Clark and Wyatt and Mansfield, for example, employ the techniques of a Cartier-Bresson (who used his camera surreptitiously), Tinney, DeMichele and Todd prefer to portray their subjects as bigger than they really are—but not necessarily who they are. With these three powerful personalities, you can get some wonderful photos, but a good portion of the energy captured is often because of the photographer rather than the subject.
Vince Hemingson's Tattoo Project showcases the work of a dozen different photographers, all shooting the same one hundred subjects. And as with Clark, Seeger, Wyatt, Mansfield, Pacheco, Gatewood, Tinney, Todd and DeMichele, each photo will resound with the energy, the artistry and the focus of the photographer who shoots the picture, proving, once again, that, although the camera, the lens and the subject may be similar, no two people click the shutter the very same way.
—BobBaxter
As editor in chief of Skin&Ink magazine for over fourteen years, Bob Baxter guided the publication to a Folio Magazine Editorial Excellence Award, making it America's most respected and educational body art publication. He currently edits and writes a Daily Blog at www.tattooroadtrip.com, the ultimate E-zine and resource site for international tattoo artists and collectors. He also has his Tattoo Chronicles series and the 101 Most Influential People in Tattooing right here @ Vanishing Tattoo. To ask questions, make comments or demand an apology, you can email Bob at baxter@tattooroadtrip.com.
Tattoo Chronicle Archives - Check out Bob's previous Chronicles