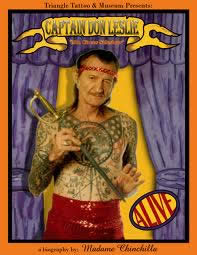 By Bob Baxter
One of the most visible and famous of the tattoo industry legends was not, primarily, a tattoo artist at all. He was, instead, a sideshow attraction, an outside talker (the actual carnival name for a "barker"), a world-record holder, a bigger-than-life storyteller and, once in awhile, a tattooist. Capt. Don Leslie was his name, and Madame Chinchilla and Mr. G of Triangle Tattoo in Ft. Bragg, California (www.triangletattoo.com) have just released a stunning new book all about this superhero's colorful exploits.
Capt. Don was, among his many talents, a sword swallower, human pincushion, fire eater, picture painter and cracker-barrel philosopher. As he spewed fire, he would also spew history, unraveling endless anecdotes from the circus world and hilarious parables from the world of ink. He was the consummate historian, a man who not only lived the life but could captivate an audience with his reflections and recollections. Who could forget his world record for number of swords swallowed at one time (five thirty-inch blades, in 1981) or his forty-two years under the Big Top?
Capt. Don died at the age of sixty-eight at his home in Chico, California on June 4, 2007. And there will never be anyone like him—although, there are a few possible successors. Two that come to mind are: The Enigma (the juggler, whose body is tattooed in blue puzzle pieces) and Lucky Diamond Rich, the Scotsman. Both made my Top 101 Most Influential People in Tattooing List, both are tattooed (just like Capt. Don) and one is a tattooer himself and a Guinness world record holder, to boot (Lucky Diamond Rich). Lucky has the record for the most tattoos (every inch of his body has been inked) and displays a charisma and crowd-pleasing prowess that would make Capt. Don proud. Lucky knows how to connect with an audience (he is expert at juggling on a unicycle, while simultaneously squelching kibitzers with witty comebacks), although Capt. Don gets the prize in the storytelling department.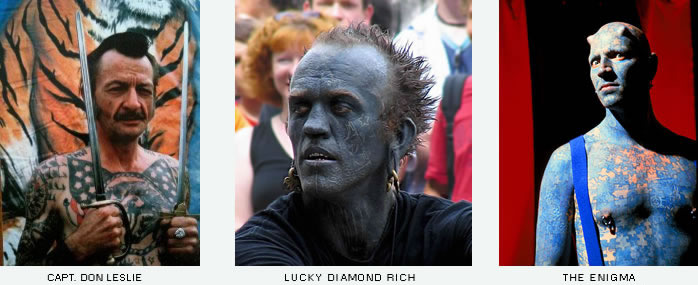 My favorite one involved a command performance that he gave at the Beverly Hills home of a famous movie and television star. Imagine, an elegant dinner party, with dozens of high-profile, highfalutin' celebrities in attendance. After dinner, with everyone encircled before him—reclining on floor pillows, sprawled on sofas and perched on comfortable chairs—Capt. Don stood in his trademark bolero jacket, matching sans-a-belt trousers (flared, with colorful inserts at the bottom), and a handful of razor-sharp, gold-handled swords. I can't quite remember the exact outfit he wore (the particular one is displayed on the wall of the Triangle Museum), but I think it was red, with white brocade and a purple-sequined jacket. In any case, Capt. Don, with his classy, neatly-trimmed moustache and long, hippie hair, was dressed like a star, standing proudly before these Film Town notables.
That is where the famous lace scarf came into play. The same lace scarf that is safety-pinned neatly onto the cuff of Capt. Don's costume on the wall at Triangle. As Capt. Don told me, "After the performance, the hostess graciously thanked me, as did many of her guests. But the best part was when, after I had gathered up my equipment and was heading for the car, she came to me and said, 'I'd like to give you a little token of my appreciation.' And that's when she presented me with the lace scarf, one that she had been carrying during the performance. I'll never forget the moment she handed it to me." And the hostesses' name? Miss Dinah Shore.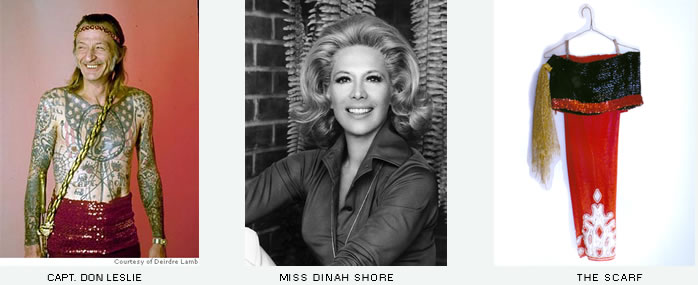 I guess the tingle that went up my spine, when Capt. Don told me, was because a noted celebrity of the time had recognized the greatness of a fellow performer—someone off the beaten track, yes, but someone from a world she considered no less important than her own. I mean, wow! How gratifying it must have been for Capt. Don. How thrilling to be acknowledged and included with such a graciousness.
In the book by Madame Chinchilla, the same incident is told, but with a different ending. In Chinchilla's version, the limo driver handed the scarf to Don, on the way home. Either way, it's a cool story and an even cooler scarf.

Back when I was in the music business (the '60s and '70s), I heard about a similarly heartwarming and magic moment. It, too, involved a celebrity family bringing a lesser-known into their realm, and by inviting this performer into their home, it bridged an enormous gap between two historic individuals. It was a story that the guitarist and singer Ry Cooder told me. It seems that, soon after John F. Kennedy was assassinated, in Dallas, on November 22, 1963, his houseguest at the Kennedy Compound, in Hyannis Port on Cape Cod, was the legendary bluesman Sleepy John Estes. Cooder played for me the song that Sleepy John had written, at Hyannis Port, waiting for the President to return from Dallas. Estes was at the compound to perform for the President and his family. The song, "President Kennedy Stayed Away Too Long," was like that gold scarf, the one safety-pinned to Capt. Don's old performance clothes. It is unduplicatable, transcendent and totally unforgettable.
—BobBaxter
As editor in chief of Skin&Ink magazine for over fourteen years, Bob Baxter guided the publication to a Folio Magazine Editorial Excellence Award, making it America's most respected and educational body art publication. He currently edits and writes a Daily Blog at www.tattooroadtrip.com, the ultimate E-zine and resource site for international tattoo artists and collectors. He also has his Tattoo Chronicles series and the 101 Most Influential People in Tattooing right here @ Vanishing Tattoo. To ask questions, make comments or demand an apology, you can email Bob at baxter@tattooroadtrip.com.
Tattoo Chronicle Archives - Check out Bob's previous Chronicles