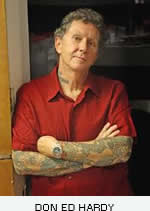 By Bob Baxter
In the September 30th edition of my Daily Blog, I ran a poll, along with excerpts from a Boston Globe story referencing a certain Facebook page "devoted to those who dislike the flashy, tattoo-influenced shirts, hats, purses, shoes, computer cases and even condoms" affixed with the label of tattoo icon Don Ed Hardy. The article goes on to condemn the Hardy line as the favorite of TV trash like John Gosselin, Lindsay Lohan and the cast of "Jersey Shore." Ugh.
More specifically, the people who voted on my poll are tattoo people, actual artists and collectors, not just random Facebookers or Globe reporters looking for a story. So what do the aficionados of the art form say about the man who many say "revolutionized" the art of tattoo?
1. He's a legend, he's the man. Whatever Don Ed Hardy does is golden: 10.81%
2. He's an important tattoo artist and the industry owes him a round of applause: 32.43%
3. He's and icon and all that, but putting out all this retail stuff has diminished his legend: 35.14%
4. What has happened to Ed Hardy is embarrassing and his merchandise sucks: 21.62%
5. I thought Ed Hardy was a clothes designer. Is he a tattoo artist? 0%—which  tells me that, although most of the general public hasn't a clue about the 65-year-old Ed Hardy or his contributions to the industry, the people who voted did.
The rhubarb started when Hardy signed on with Christian Audigier, the marketing impresario whose here-today-and-gone-tomorrow promotion of the 1960s car-culture icon Von Dutch made a brand name out of the cult hero pin-striper who worked by a rundown Airstream trailer parked in a vacant lot in Calabasas, California (I know, because he striped my Honda 750). But Hardy, as smart as he was, clearly didn't predict how an overambitious entrepreneur would ultimately besmirch the reputation he had diligently fashioned for himself, the title of "fine artist," not just a guy down by the docks, tattooing sailors and runaway jailbirds. With his many gallery shows, his TattooTime magazine (in which, among many other accomplishments, he introduced modern tribal tattooist Leo Zulueta to the world) and a 1999 book, Tattooing The Invisible Man, you would think this megastar of the tattoo world (called by many "the Godfather" or even "the Father" of American Tattooing, depending on who you talk to) would be invincible to criticism. Wrong.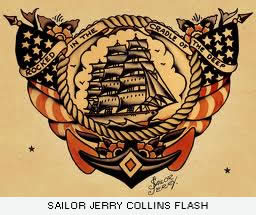 There is no arguing Ed Hardy's accomplishments; it's the way he did things that comes into question. Shanghai Kate Hellenbrand (Kate was pals with Hardy and Mike Malone at the very first "tattoo convention" at tattoo legend Sailor Jerry Collin's home in Hawaii in 1972) contends that Hardy based the majority of his clothing designs on Sailor Jerry's graphics (Collins died in 1973) and used them as a basis for the Christian Audigier line. Jerry's art, as you know, virtually shaped the direction tattooing has taken in the last forty years. In 2009, at Mario Barth's tattoo extravaganza in Las Vegas, I met Sailor Jerry's wife, Louise. She told me an interesting anecdote: It seems she was recently having dinner at a restaurant with friends and, glancing over at the bar, noticed a bottle of rum with her late husband's name on the label. She had no idea that the world was being swamped with everything from bikini underwear to aftershave tagged, basically, with her husband's designs or, at the least, Ed Hardy's versions of her husbands designs, printed in full color on the labels. Louise did tell me, however, that Hardy did send her a letter at one point, along with a signed copy of his latest book.
Whether Hardy could have or should have shared his ultimate bounty with Ms. Collins is a decision that Ed has to make. But it seems to me that, if could figure out where to send her a book, he most certainly knew where to send a check to this elderly widow who, Hellenbrand told me, was making grocery money taking care of other people's children and sleeping on a sofa at night. At interviews, Hardy has emphasized that all he wants to do is his art and be left alone. "He (Audigier) gave me a big push, telling me that he'd fly me around and have me signing autographs everywhere," he told the Globe. "I said to him, 'Why don't you just leave me alone and pay me?'" So, without the artist in the picture, Audigier became the face of Ed Hardy, which was fine for marketing purposes, but, unfortunately for Ed, attracted a great deal of criticism and even contempt from tattoo aficionados who had looked up to and revered him for years.
Granted, tattoo artists, especially tattoo artists, love success; just not when it's someone else's. I began to notice that fact, as related to Ed Hardy, back a decade ago, when I first took over the reins at Skin&Ink magazine. While certain stalwarts such as the respected historian C.W. Eldridge of Tattoo Archive sang Ed's praises, some who I approached for "a good word or two about Ed" turned and walked away. "No comment," was their reply. But why? Much of the success of today's tattoo culture is based on Ed Hardy's bringing Japanese-style tattoo art into the mainstream (it's practically every tattooist's showcase art form, from Filip Leu to Chris Treviño), so why isn't there universal acclaim for this remarkable, hardworking entrepreneur?
Yes, jealously most certainly has something to do with it. Many resent Hardy's success. But, perhaps, it's also his undeniable aura of self-righteousness. Deserved or not, that often gets translated as "if it doesn't fit into Ed Hardy's version of the world, it's not plausible." It's as if Hardy's contributions have made him judge and jury of what is right and what is wrong in tattooing. When he was a columnist for my magazine, for example, we worked together harmoniously, that is, until Pat Fish wrote an article for me about the commonsense notion of tattoo shop owners keeping accurate records and filing yearly income tax statements. When that was published, Hardy handed in his resignation. He didn't like the fact that the "trade secrets" of the inner sanctum were being exposed to the light of day. After all, Ed Hardy comes from a time when tattooing was a backstreet business, every transaction was cash and tattooists were more pirates than business people.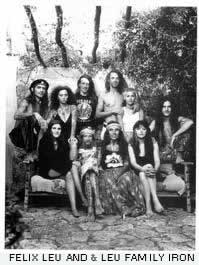 Ed Hardy had always been welcoming to me and, in fact, when I suggested my sister contact him to donate a painting (of a shark) to an auction she was holding for her Friends in Deed organization at Christie's auction house in New York City, the day prior to 9/11, she told me that Ed not only donated the painting but was extremely helpful and friendly. Once again, another example of Ed Hardy "the ambassador of fine art." But is he the first choice for such an accolade? Felix Leu, Filip's late father, was an ambassador of the art and produced, along with his wife, Loretta, a young man who is arguably one of the finest tattoo artists in the world, but Don Feliz, as they called him, drew people to him with both his art and his warmth. When he appeared with his Family Iron in Tahiti, shortly before his death, for example, he was surrounded with people and happily invited strangers into his circle. Hardy, on the other hand, had a different type of charisma.
Back when I was hitting the shops and introducing myself to the movers and shakers of the tattoo world, I was welcomed by every tattoo parlor I visited. Big-name artists like Brian Everett, Henk Schiffmacher and Good Time Charlie Cartwright greeted me like a long-lost brother. When I visited Hardy's San Francisco shop at 700 Lombard, however, I was cautioned not to walk up and greet the man. "Don't interrupt him," was the whisper. He was in his private cubicle, dressed in his trademark lab technician's coat and shouldn't be bothered. The people around him spoke in hushed tones. Not at all like the helter-skelter camaraderie of Eddy Deutsche's 222 Tattoo, for example, back around the same period. Deutsche's shop was designed for talking among the artists. And the chatter was loud, so you could hear it over the rock 'n' roll blasting from the record player.
Hardy is not an ignorant man, so it's somewhat difficult to understand why he didn't see all this coming. He had no compunction about freely licensing his images (or rather Sailor Jerry's images, according to Hellenbrand), but he ultimately ended up suing Audigier for $100 million. How did that happen? Didn't he read the fine print? Didn't he check out the history of the Von Dutch merchandising (Von Dutch reportedly fired Audigier) and learn a lesson there? Was he too trusting or did his preference to "not be involved" come back to bite him in the butt? Whatever the case, Lyle Tuttle told me that he saw a preview of a new Ed Hardy documentary that stated, in the credits at the end of the movie, Ed Hardy products, over the last two years or so, have grossed over 450 million dollars. I remember Ed telling me that he only got a small cut of the proceeds, but for someone who has worked so hard to be considered a "fine artist" and wanted to, basically, stay in the background, he, ultimately, broke the rule, stepped forward, accused Audigier of trampling on the licensing agreement and filed a suit in Los Angeles County Superior Court, the results of which included a handsome settlement, agreed to by all parties concerned. But at what cost?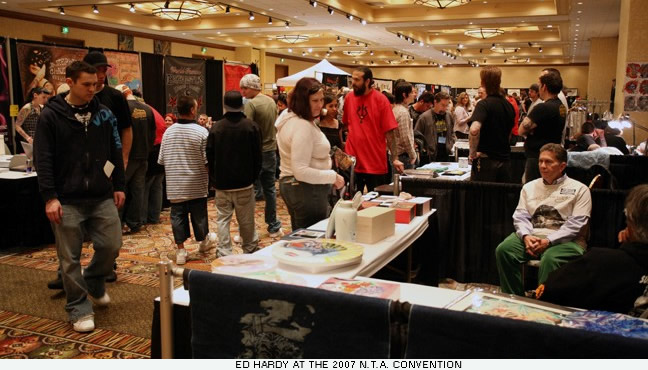 Hopefully, Ed Hardy has realized his dream. It's always good to see that happen to someone with his particular brand of talent and vision. Let's face it, there were times when the only bright light in the tattoo heaven was an Ed Hardy gallery showing or a lecture. He brought out the best in an industry beset by a lot of bad press. Perhaps he has reconciled all the adverse publicity with the fact that, with a big, fat settlement in hand, he can distance himself from the critics and just plain make art. I think again of Don Feliz, who, even as his health was declining and cancer was ravaging his body, had people around him, members of the worldwide tattoo community, anxious to bathe in his glow. Even toward the end, his letters to me were funny and totally without self-pity. And then I recall a photo that Bernard Clark took of Hardy at the 2007 N.T.A. convention, where Ed was the target of their annual Sunday night roast. The hall was packed, and some of the biggest names in the business would share the dais, along with their hilarious barbs and put-downs. But, during the day, before the roast, with the convention in full swing, there was Ed Hardy, sitting in his booth on a metal folding chair, expressionless, while the rest of the conventioneers walked heedlessly by. Somehow this struck me as very, very sad.
—BobBaxter
As editor in chief of Skin&Ink magazine for over fourteen years, Bob Baxter guided the publication to a Folio Magazine Editorial Excellence Award, making it America's most respected and educational body art publication. He currently edits and writes a Daily Blog at www.tattooroadtrip.com, the ultimate E-zine and resource site for international tattoo artists and collectors. He also has his Tattoo Chronicles series and the 101 Most Influential People in Tattooing right here @ Vanishing Tattoo. To ask questions, make comments or demand an apology, you can email Bob at baxter@tattooroadtrip.com.
Tattoo Chronicle Archives - Check out Bob's previous Chronicles