By Bob Baxter
That tattoo family is, I suppose, like any other family; some are like Ozzie and Harriet and David and Ricky, and others are dysfunctional and antisocial. Case in point: my initial relationships, or rather, my initial run-ins with certain members of the tattoo tribe.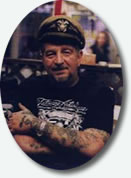 Let's start with Sailor Jerry Swallow, the legendary old-school tattooist from Nova Scotia. Several years ago, maybe six or seven, Mike McCabe wrote a story for me about his visit to Jerry's shop in New Glascow. It was an excellent exposé, extolling the many virtues of this time-honored artist and his graphic accomplishments over the last four-and-a-half decades.
After it was published in my magazine, I received several letters. One of them stood out from the rest. It, in a very disrespectful and accusatory way, stated that Sailor Jerry's artwork was second-rate at best, couldn't compete with the current crop of young artists and should be dumped, unceremoniously, in a pile, along with all the other old-timers and has-beens of the tattoo world.
Since I loved to print outlandish and often vitriolic letters in my Letters to the Editor, I earmarked this one for the very next issue. I should point out that, besides publishing colorful, often hysterical letters from readers, one feature that the readers liked most was when I answered these very letters in the magazine and didn't pull any punches in my responses. Hey, it was my magazine and I could do bloody well what I wanted. But, because the letter criticizing Sailor Jerry's work was so over the line and without basis, I let it get go without comment. My mistake.
When the magazine hit the newsstand and Jerry Swallow saw that terrible letter, he let me have it. "How come you didn't print one of your cool response, like you do with everyone else?" he wrote. There were also a few other choice words about my parentage and my right to edit scribbles on public restroom walls, let alone a tattoo magazine.
I was stunned. I had completely underestimated his reaction. I figured, of course, that the letter was so hateful and stupid that everyone, including Sailor Jerry himself, would take it for what it was: a letter from a crank. Guess not. So, with somewhat trembling hands, I immediately dashed off an apologetic email to Nova Scotia extolling the virtues of Jerry Swallow and bringing the hammer down on his misdirected critic. I remember writing something like, "Everyone knows and respects the many years of hard work and legendary artwork that you have produced, and any comments to the contrary are obviously written by someone who is either insane or knows about as much about tattoo art as a ground squirrel."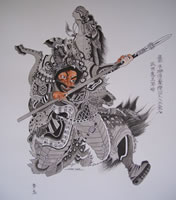 Well, it turned the trick. Not only did Sailor Jerry Swallow answer me almost immediately, he completely understood, forgave me totally and signed his email "Friends Forever." In fact, when we met in person for the first time in Calgary a year or so later, we embraced like long-lost brothers. It turns out that he was a big Larry Flynt fan, so I'd forward him memorabilia like Flynt's annual Christmas card or invitations to special black-tie parties at the Beverly Hills Hotel. As for Jerry, he sent me something I will never forget: his gorgeous original poster he painted for the June 2008 issue. The same poster that I have framed and hung, magnificently, on my office wall, right next to where I work, each and every day. It is signed, "With love n' respects. To my friend Bob Baxter."



Just recently, I received some angry emails regarding an interview I did for a West Coast newspaper. A difference of opinion. About the same time, I get this letter from an artist who, back about a year and a half ago, I had driven over a thousand miles to interview. And, when I got there, we walked out of his shop. Why? Because, when my photographer and I walked through the door with our camera equipment and lighting, his crew was sitting around in a store that was "open for business," drinking beer like it was party time at an after-hours club. When we saw that, we turned on our heels and headed for the car. I mean, really, that's not the appropriate way to represent the tattoo industry, especially when an international magazine has arrived to feature you on their pages for all the world to see. All that said, here's the letter I got on Wednesday from the guy whose shop we walked out on:
"Hello Bob. I just got done reading the email interaction between yourself and xxxxx, and my feelings were spit. I felt bad for you because I could see how you may have felt unjustly attacked... and that really hit home with me, because you have shown me how that feels. On another note, I am sorry if you were made to feel uncomfortable in my shop. That is something that I would like to prevent anyone from experiencing, if I can do anything about it. Also, I would also like to thank you for making me think about how I might do things better in the future. Good luck on your travels!"
That took guts. Instead of using the email he received from you-know-who as a springboard for telling me to go F myself, he used it as a platform for a heartfelt apology. That, my friends, is class. Just like Sailor Jerry Swallow.
—BobBaxter
As editor in chief of Skin&Ink magazine for over fourteen years, Bob Baxter guided the publication to a Folio Magazine Editorial Excellence Award, making it America's most respected and educational body art publication. He currently edits and writes a Daily Blog at www.tattooroadtrip.com, the ultimate E-zine and resource site for international tattoo artists and collectors. He also has his Tattoo Chronicles series and the 101 Most Influential People in Tattooing right here @ Vanishing Tattoo. To ask questions, make comments or demand an apology, you can email Bob at baxter@tattooroadtrip.com.
Tattoo Chronicle Archives - Check out Bob's previous Chronicles