By Bob Baxter
The magazine that you saw on the newsstand was not necessarily the one we sent to the publisher. This was true, even when I worked for Larry Flynt, the man who many consider "The King of Porn." It was my premiere issue of Skin&Ink. I was in the Larry Flynt Publications building in Beverly Hills when the phone rang. We were having our very first staff meeting. Several of the early contributors—Joe Vegas, stuffed into a tight fitting sports jacket, and the photographer Maurice Pacheco, among others—sat around the large oak table in one of LFP's conference rooms. The person on the other end of the line was Donna Hahner, the vice president in charge of production.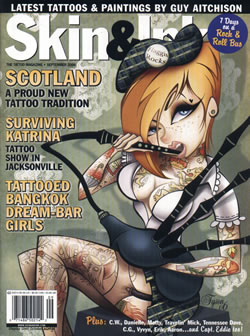 September 2006 "Little Scottish Girl" cover by cartoonist Tyson McAdoo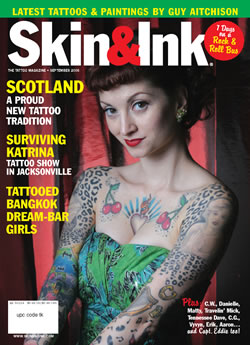 McAdoo's little Scottish girl was replaced with a standard photo of Ms. Cherry Dollface


"We have a problem," she said. "Mr. Flynt feels that there are too many F-words in the issue. You have to edit them out."
I hadn't really got my seas legs yet, but I blurted out a response, as if I knew what I was talking about. "It's a tattoo magazine," I told her. "That's the way people in the tattoo world talk. I don't want to censor it. If I do, the readers won't trust me to tell it like it is. I want them to know that whatever they say, that's the way it will appear in the magazine." I was blowing smoke, but Hahner told me she understood and would get back to me with Flynt's decision.
It didn't take long. No sooner had we finished out business around the conference table than the phone rang again. It was Hahner. "Mr. Flynt says okay," she told me. "Just cut it down to a minimum in the Editor's Comment. He doesn't want a lot of F-words up in the front of the magazine. Put them in the middle, where they're hard to find."
Whew! My first editorial victory. And also the first in a long series of decisions that Flynt made within twenty-four hours of my asking. If I ever had a question regarding policy or ethics or procedure, all I had to do was pick up the phone and call Donna Hahner. She'd get Flynt's answer within a day. That's the way it was for my eight years with LFP.
When I worked for Flynt, my art director and I came up with the artwork for each cover. But first, several version had to be presented to a trio of vice presidents. They were the ones that made the final decision. So, every couple of months, my art director and I showed up at the Flynt building with three different cover ideas, mocked-up and ready to go. The VPs would mull them over and, after ten minutes or so, the president, Jim Kohls, would point to the one he liked and walk back to his office. It was usually the one we liked best anyway, but, after awhile we got savvy and put in a couple of duds, so our favorite would be the guaranteed winner.
After Flynt sold the magazine to the Perretta family in New Jersey, I lived on the West Coast and was too far away for a traditional cover meeting. Because of that, I'd make final selections and send them, along with all the mechanicals and artwork, to the offices in Paramus. This usually worked without a hitch. But, in a couple of instances, the covers were changed without my knowledge. The artwork was replaced, printed and put on the newsstand without my being able to do a thing about it. Very frustrating. The first was the September 2006 "Little Scottish Girl" cover by cartoonist Tyson McAdoo. The Perrettas called me and said, "The distributors in the Midwest won't put it on the newsstand. It's too erotic." Because of the conservative political climate in the country at the time, we were not allowed to publish photos or even illustrations of bare breasts, nipples or butt cracks. That included tattoos! I understood that, but this was a cartoon. There was absolutely no nudity. "It's a drawing!" I said.
"No matter," said Perretta. "The Midwest distributors won't take it. You have to come up with a different graphic."
I wasn't happy, but I did what I was told. In Des Moines and Little Rock, McAdoo's little Scottish girl was replaced with a standard photo of Ms. Cherry Dollface. And that's the way Skin&Ink appeared in all the Bible Belt bookstores and 7–Elevens.
The August 2008 also got changed. This one came completely out of left field. When we sent in the artwork, we thought it was a Go. Bernard Clark's photograph of the winking blond was a winner. A pretty girl with lots of energy and a solid dose of tattoo spunkiness.
Forget it. When the magazine appeared on the newsstand, we were astounded. It seem some overzealous member of the Perretta's art department pulled out the ol' airbrush and Photoshopped a brand-new, wide-open eye where the winking one used to be. Unbelievable. When I called back east, the Perrettas said they had no idea who did it or why. It made no sense. And to this day, I've never figured who did it or for what reason.
| | |
| --- | --- |
| Bernard Clark's photograph of the winking blond | Brand-new, wide-open eye where the winking one used to be |
—BobBaxter
As editor in chief of Skin&Ink magazine for over fourteen years, Bob Baxter guided the publication to a Folio Magazine Editorial Excellence Award, making it America's most respected and educational body art publication. He currently edits and writes a Daily Blog at www.tattooroadtrip.com, the ultimate E-zine and resource site for international tattoo artists and collectors. He also has his Tattoo Chronicles series and the 101 Most Influential People in Tattooing right here @ Vanishing Tattoo. To ask questions, make comments or demand an apology, you can email Bob at baxter@tattooroadtrip.com.
Tattoo Chronicle Archives - Check out Bob's previous Chronicles