By Bob Baxter
I first encountered Vince Hemingson in Apia, Samoa, a couple of years after Paulo Sulu'ape's fabled get-together on the island of Upolu. Paulo had invited us all there to celebrate the two thousandth anniversary of the Samoan tradition of tattoo. This key event celebrated the time when twin sisters brought the tools for tattooing to Upolu and began the island's love of the pe'a (the intricate, hand-poked tattoos worn by men from waist to knee), the malu (the women's version) and the symbols and symbology that Samoans bring to ink and skin.
As the legend goes, a young man named Tafua married a woman by the name of Sinaletafua. They had no children, so the boy left his wife and swam to Falelatai in Upolu, where he was married again, to a woman who gave birth to Siamese twins. The girls could not be separated, and remained nameless. Since the twins were grandchildren of the high chief, an order was issued that, when the twins were asleep, everything in the village had to be absolutely quiet. One day, some men returned home carrying firewood, which they accidentally dropped on the ground. It caused a loud clatter that awakened the sisters. In their excitement, the twins ran toward sea, where they broke off from each other, swam together and finally came ashore at Samamea in Upolu.
When the twins arrived, the women of the village were engaged in makinglega (ginger powder). The girls asked the village women for some lega for themselves, and they were given a small amount. The girls thought that the amount of this gift was too little and voiced their disappointment. To this, the leading woman of the village replied, "E itiiti ae o le lega mea" ("It may be little, but it is a legamea"—a reference to the fact that this was A-1 grade ginger powder, which was all about quality not quantity). When the twins received the powder that they asked for, they took to the sea again and continued to swim eastward. In mid-ocean between Upolu and Tutuila, they came across a broken mast and a package made of breadfruit leaves. In memory of this incident, the girls named themselves after what they found and, from that time on, were known as Taema and Tilafaiga.
In Polynesia, the origins of tattoo are varied. Samoans and Tongas credit Fiji as the source of tatau (where they say the sisters first set out), the Fijians credit the Samoans and the Maoris credit the underworld.
The year was 1999, when Paulo invited us to attend his even in Apia. And it was on the return visit twenty-four months later that I met Vince. One of the highlights of this time was a trip to the beautifully primitive village of Faleséela, which was located near a rock (marked with a bulls eye, no less), where the twins were said to have swam ashore. This is one of the locations that Hemingson was scouting for a segment of his proposed Vanishing Tattoo television series. He was there for a look-see.
My book, Tattoo Road Trip - Two Weeks in Samoa
goes into detail regarding this trip, but it fails to mention exactly how Vince and I bonded, so to speak, and allowed our great minds to come together and meld into one 24-carat gold marketing machine. This breakthrough happened quite spontaneously and was not only a fabulous get-rich-quick scheme, but a boon to both the psychological and ocular well being of the inhabitants of this small, rather primitive island. Not only would we be millionaires, we'd win Brownie points doing it. Our idea guaranteed that the tattoo culture of Samoa would continue to thrive and, as Vince would say, "Never, ever vanish."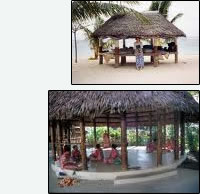 The idea was simple but groundbreaking. Dimmer switches. That's right, the electronic wall devices used to turn ceiling lights on and off. We had this epiphany on the bus, coming back from Saleapaga, the site of the second Samoan tattoo convention presented by Paulo's brother, Petelo. It seems that, as we drove, in the early evening, past village after village on the way back to the Aggie Grey Hotel in Apia, we noticed that in fale after fale (the no-walls, thatched houses prominent in all the Samoan enclaves), the preeminent lighting fixtures consisted of bare, 450-watt, incandescent light bulbs. You could do brain surgery in those fales.
Our thought, Vince's and mine, was to rescue the villages from this glare, thus calming down their hot-blooded tendencies, enhance their environment and no longer subject them to the scrutiny of people, such as we, who passed by in cars at night. I mean, how would you feel if you knew that strangers in cars could see you in your pajamas watching reruns of Miami Ink?
I wonder if they'd have any use for clappers?
—BobBaxter
As editor in chief of Skin&Ink magazine for over fourteen years, Bob Baxter guided the publication to a Folio Magazine Editorial Excellence Award, making it America's most respected and educational body art publication. He currently edits and writes a Daily Blog at www.tattooroadtrip.com, the ultimate E-zine and resource site for international tattoo artists and collectors. He also has his Tattoo Chronicles series and the 101 Most Influential People in Tattooing right here @ Vanishing Tattoo. To ask questions, make comments or demand an apology, you can email Bob at baxter@tattooroadtrip.com.
Tattoo Chronicle Archives - Check out Bob's previous Chronicles