Tattoo Road Trip—The Best of Oregon
By Bob Baxter and Mary Gardner is a big 320-page, 7-pound coffee-table book featuring 44 "Top Tattoo Shops" in Oregon, including over 900 photos, stories on each shop and Mary's famous "Big 10 Questions." Bob and Mary will be on hand to sign copies at numerous Oregon locations listed on their Tattoo Road Trip website . The artists and clients pictured in the book will also be signing their pictures.
It is said that Oregonians have more body art per capita than any state in the union. Bob Baxter and his wife, Mary Gardner, have carefully vetted and selected forty-four of the best shops out of hundreds in their home state in order to expand and improve their already vast online tattoo shop directory.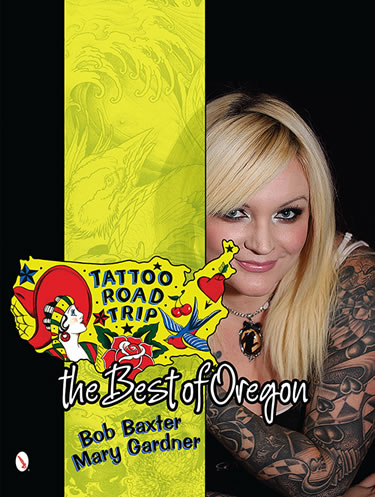 Spending three months on the road and traveling nearly a thousand miles, they visited each location, interviewed the owners, and photographed the shops' finest and most loyal clients. The result is the fifth installment in the Tattoo Road Trip series, a captivating, regional tattoo compendium and day-by-day account of the couple's adventures on the road in the Beaver State, from top to bottom, along the coast and inland. This one-of-a-kind collection of tattoos and tattoo artists is an essential component to the enthusiast's understanding of the tattoo scene in this majestic Pacific Northwestern state.
To order, please call Mary Gardner at (503) 896-0835